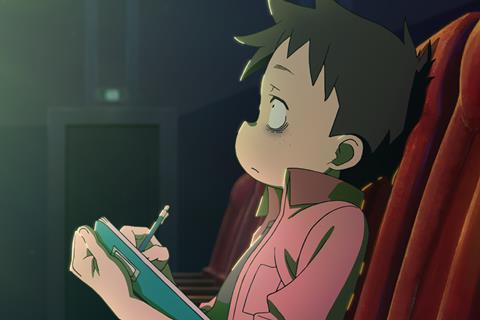 GKids has acquired all North American right from Avex Pictures to Takayuki Hirao's 2021 Fantasia Film Festival anime Pompo The Cinephile (Eiga Daisuki Pompo-San) and plans a 2022 theatrical release.
Hirao's (God Eater, The Garden Of Sinners) film follows a first-time filmmaker tasked with directing a Brando-esque actor in the role of an ageing and tormented genius. The cast includes Hiroya Shimizu, Konomi Kohara, Ai Kakuma, Aiko Otsuka and Rinka Ōtani.
Pompo is produced through new studio Clap and has grossed around $1.8m since it opened in Japan on June 4. A crowd-funding campaign to create a 35mm print achieved its fundraising goals of approximately $91,000 in 11 days.
GKids will release theatrically in original Japanese language and a new English dubbed version early next year. Avex Pictures represents international rights.