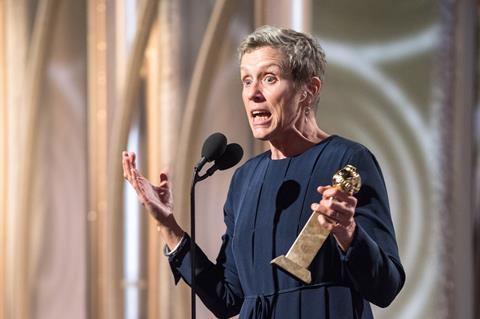 The winners were almost an afterthought at the 75th Golden Globe Awards, which was dominated by recent Hollywood sexual harassment scandals.
At the ceremony almost every star wore black in tribute to victims of abuse, whilst many presenters and winners also spoke out on the topic.
The most successful film on the night was Three Billboards Outside Ebbing, Missouri, directed by Martin McDonagh and co-financed by Fox Searchlight and Film4.
It won best drama film, best drama actress for Frances McDormand, best supporting actor for Sam Rockwell and best screenplay.
In her speech, McDormand said: "I keep my politics private, but it was really great to be in this room tonight, and to be part of a tectonic shift in our industry's power structure."
Greta Gerwig's directing debut Lady Bird won best musical or comedy film, with Saoirse Ronan also winning best actress.
Gerwig was not nominated for best director however, which was won by Guillermo del Toro for The Shape Of Water.
The best director list proved controversial on the night. Natalie Portman, presenting the award, referred to the "all-male nominees".
Barbra Streisand also reminded the audience that she is still the only woman to win best director at the Golden Globes as she presented the best drama film award.
"That was 1984 (for Yentl)," she said. "That was 34 years ago. Folks, time's up! We need more women directors and more women to be nominated for best director. These are so many films out there that are so good directed by women."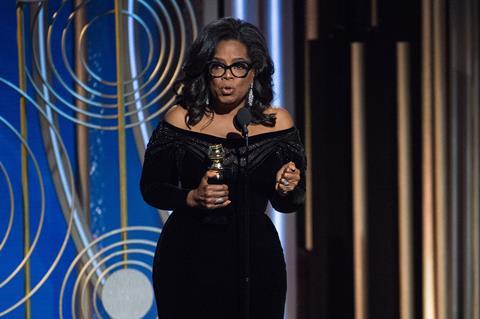 The biggest cheer of the night was for Oprah Winfrey, who became the first black woman ever to win the Cecil B DeMille lifetime achievement award.
In a barnstorming speech covering racial politics, sexual abuse and press freedom that earned several standing ovations, she told the audience: "I want all the girls watching here, now, to know that a new day is on the horizon!"
Gary Oldman won best actor for playing Winston Churchill in Darkest Hour (the film's only nomination). He was one of only three British winners on the night, alongside McDonagh for best screenplay and Ewan McGregor's best actor in a limited series prize for Fargo.
Fatih Akin's German drama In The Fade, which competed for the Palme d'Or in Cannes last year, won best foreign language film.