Goodbye Mr Loser knocked Lost In Hong Kong from the top spot.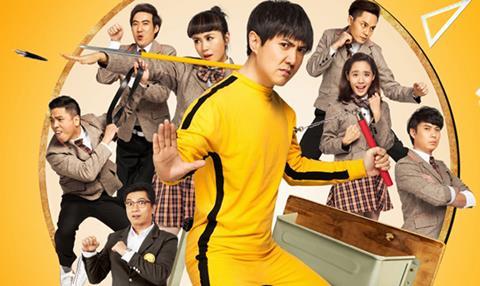 The local comedy Goodbye Mr Loser climbed to the top with a strong $99.84m, bucking the downward box office trend. Its rise in ticket sales was especially strong in its second week: it earned $17.04m on October 11, compared to $3.66m on its opening day in third place, and has now amassed $142.09m after 12 days.
Goodbye Mr Loser was the first film investment by theatre company Happy Mahua, which now has plans for a public listing to finance more film productions. It is co-produced by Wanda Media and released by its Wuzhou Film Distribution.
Despite fierce competition, the sleeper hit has also emerged as the biggest film over the week-long National Day holidays (October 1-7) with $88.09m, narrowly beating Lost in Hong Kong which took $86.36m over the same period. According to local reports, the nationwide box office reached $292.07m over the seven-day National Day holidays, up 70% from last year.
After topping the weekly chart for two consecutive weeks, Xu Zheng's comedy Lost In Hong Kong slid to second place with $35.02m and amassed $245.26m after 17 days. It is now the fourth biggest film of all time in China (after Monster Hunt, Furious 7 and Transformers: Age Of Extinction).
Lu Chuan's CGI-heavy fantasy adventure Chronicles Of The Ghostly Tribe was pushed to third position with $30.54m for $100.35m after 12 days, while Saving Mr Wu, which has received a Golden Horse best supporting actor nomination for Wang Qianyuan, was in fifth position with $11.77m for $26.84m after 12 days.
The only new entry in the weekly top 10 was Disney-Pixar's animation Inside Out which opened in fourth position with $12.34m after six days. Holdovers Minions slipped to sixth with $2.63m for $68.49m after 29 days, while Mission: Impossible – Rogue Nation dropped to eighth with $1.01m and ended its run with $136.76m after 34 days.
Local live action fantasy Balala The Fairies - Princess Camellia maintained at seventh with $2.22m for $5.37m after 11 days. Chinese-Korean co-production The Third Kind Of Love was in ninth place with $0.58m for $11.27m after 17 days, followed by pan-Asian omnibus thriller The Mirror which took $0.19m for $1.54m also after 17 days.
A string of new titles are due to open on October 16, including Marvel Studios' The Ant-Man, The Little Prince and Chinese director Xin Yukun's directorial debut The Coffin In The Mountain which premiered at Venice's Critics Week last year.