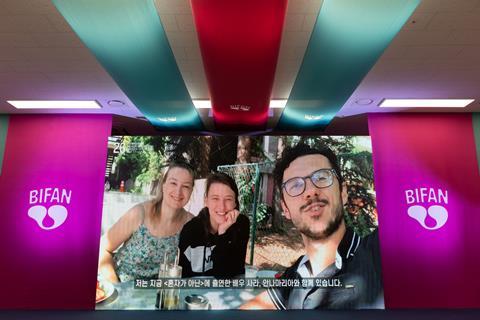 Goran Stolevski's debut feature You Won't Be Alone picked up the top award at the 26th Bucheon International Fantastic Film Festival (Bifan) today (July 14).
The Australia-Serbia coproduction, which received its world premiere at Sundance, won the Best of Bucheon award and KW20m ($15,280).
The Bucheon Choice: Features international competition jury headed by Harada Masato said of the film: "The balanced composition of various basic elements like directing, writing and acting make You Won't Be Alone a wonderfully well-crafted movie.
"It is a phenomenal attempt to interpret the fundamentals of humanity through the means of genre cinema by using alienated and isolated human creatures borrowed from folk tales, added up with mystery. This masterpiece stands out through excellent directing and a clever approach evoking empathy from the abyss of human psychology."
The film charts the life of a witch's soul in various host bodies as she experiences existence and stars Noomi Rapace. Focus Features handles world rights.
Speaking from Macedonia, Stolevski expressed sadness at not being able to accept in person, and said: "We are making another film, a very different film [which we will submit to Bifan again.] We're definitely going to be there next year. Such an honor, you've made our day today – our week probably. Can't wait to see you there next year."
In the Korean Fantastic: Features competition, Body Parts, directed by Choe Wonkyung, Jeon Byeong Deok, Lee Gwang Jin, G'sam, Kim Jang Mi and Seo Wally, picked up the top Korean Fantastic Film prize which comes with KW20m ($15,280).
Yu Bora of the Korean competition jury explained they selected the winners "focusing on the perfection of the film and fidelity to genre while considering what the audiences will face in cinemas after the long period called the pandemic."
"Five episodes cleverly composed merge perfectly into one story in Body Parts, an eye-catching work overcoming the clichés of the horror genre in various sophisticated ways. Each episode works perfectly as a short film independently, and at the same time all episodes together work perfectly as feature film making it an outstanding work by all means," she added.
Director Park Syeyoung's The Fifth Thoracic Vertebrae picked up three awards: best director, the Korean Fantastic audience award and the Nonghyup Distribution award.
The Woman In The White Car and Thunderbird also picked up two awards apiece, sharing the Watcha's Pick for Features and Korean Fantastic Actors awards.
The Korean Fantastic Actors awards traditionally go to two actors. This year, one went to Jung Ryeo-won for her role in The Woman in The White Car and the other went to Seo Hyeon-woo for his role in Thunderbird.
"I came to realize how much I love my job while shooting this film," said Jung. "Even though it was low-budget, I was able to work with people with very rich hearts who gave me support and protected me a lot, so I would like to share this honor with the team."
Seo noted this is his first award since starting his career in acting. "This feature is produced by the Korean Academy of Film Arts (KAFA). I've done a lot of KAFA films so would like to share this honor with them," he said.
Bifan will close on Sunday (July 17) with Jung Bum-shik's suspense drama New Normal.
Bifan 2022 winners
Bucheon Choice: Features
Best of Bucheon (KW20m): You Won't Be Alone by Goran Stolevski
Best Director Choice (KW5m): Christian Tafdrup for Speak No Evil
Jury's Choice (KW5m): Vesper by Kristina Buozyte & Bruno Samper
Audience Award: Sissy by Hannah Barlow & Kane Senes
Korean Fantastic: Features
Korean Fantastic Film (KW20m): Body Parts by Choe Wonkyung, Jeon Byeong Deok, Lee Gwang Jin, G'sam, Kim Jang Mi, Seo Wally
Korean Fantastic Best Director (KW5m): Park Syeyoung for The Fifth Thoracic Vertebrae
Watcha's Pick for Features (two films, KW5m each): The Woman in the White Car by Christine Ko and Thunderbird by Lee Jaewon
Korean Fantastic Actors (2 persons): Jung Ryeo-won for her role in The Woman in the White Car and Seo Hyeon-woo for his role in Thunderbird
Special Mention: Oh Dong-min for his role in Next Door
Korean Fantastic Audience Award: The Fifth Thoracic Vertebrae by Park Syeyoung
Nonghyup Distribution Award (two films, KW10m each): The Fifth Thoracic Vertebrae by PARK Syeyoung and Next Door by YEOM Ji-ho