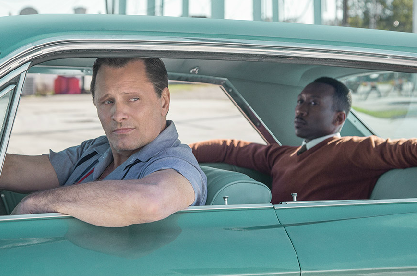 The period drama Green Book from Peter Farrelly has won the Toronto International Film Festival (TIFF) 2018 Grolsch People's Choice Award and bolstered its awards season prospects given TIFF's recent track record.
Viggo Mortensen and Mahershala Ali star in the tale of an Italian-American bouncer who drives an African-American jazz pianist on a 1960s concert tour of the South. Participant Media produced and financed Green Book through its joint venture with Amblin/Dreamworks, and Universal will release the film in the US on November 21.
The TIFF audience award pedigree has grown in significance in recent years. Three Billboards Outside Ebbing, Missouri won the accolade in 2017, preceded by La La Land, Room, The Imitation Game, 12 Years A Slave, Silver Linings Playbook, Where Do We Go Now, and The King's Speech back in 2010.
Most of these recent winners went on to prosper in awards season. Three Billboards, La La Land, Room, and Silver Linings Playbook earned best actress Oscars, while 12 Years A Slave and The King's Speech became best picture Oscar winners. The Imitation Game won best adapted screenplay.
"I'm still reeling over the response to the film so this is just incredible," Farrelly said in a statement read out by TIFF artistic director Cameron Bailey, who presided over Sunday's (16) awards ceremony with outgoing TIFF director and CEO Piers Handling.
"Thanks so much to the festival; I was truly honoured just to be accepted into it, but to actually win is beyond my wildest dreams. Now I see why everyone says the audiences in Toronto are the best in the world. On behalf of the cast, crew and my fellow writers Nick Vallalonga and Brian Currie, I can't thank you enough."
Barry Jenkins' If Beale Street Could Talk from Annapurna Pictures was the first runner-up, and Alfonso Cuaron's ROMA, produced and financed by Participant Media and distributed worldwide by Netflix, is second runner-up.
The Grolsch People's Choice Midnight Madness Award went to India's first ever entry in the section, The Man Who Feels No Pain from Vasan Bala. David Gordon Green's Halloween was first runner-up, followed by Sam Levinson's Assassination Nation.
The Grolsch People's Choice Documentary Award went to E. Chai Vasarhelyi and Jimmy Chin's Free Solo. Runners-up in order were Tom Donahue's This Changes Everything and John Chester's The Biggest Little Farm.
Turning to the international juried awards, Wi Ding Ho's Cities Of Last Things won the Toronto Platform Prize presented by Air France. Emir Baigazin's The River earned an honourable mention.
The FIPRESCI Prize for Discovery section went to Carmel Winters' Float Like A Butterfly, and an honourable mention went to Laura Luchetti's Twin Flower. FIPRESCI awarded the Special Presentations award to Guy Nattiv's Skin, and an honourable mention to Louis Garrel's A Faithful Man.
The NETPAC Award went to The Third Wife from Ash Mayfair, while Bai Xue's The Crossing earned an honourable mention. The Eurimages Audentia Award went to Aäläm-Wärqe Davidian's Fig Tree, and Camilla Strøm Henriksen's Phoenix received an honourable mention.
In the Canadian film jury awards, Katherine Jerkovic's Roads In February (Les Routes En Février) won the City Of Toronto Award for Best Canadian First Feature Film, and the Canada Goose Award for Best Canadian Feature Film was presented to Sébastien Pilote's The Fireflies Are Gone (La Disparition des Lucioles).
The short film jury awards saw Meryam Joobeur's Brotherhood claim the IWC Short Cuts Award For Best Canadian Short Film, with an honourable mention going to Jérémy Comte's Fauve.
The IWC Short Cuts Award For Best Short Film went to Sandhya Suri's The Field, and honourable mentions to Anette Sidor's Fuck You, and Emma de Swaef and Marc James Roels's This Magnificent Cake!
Bailey said that 342 features and short films played at the festival, and signed off by noting the 44th TIFF will run from September 5-15, 2019.