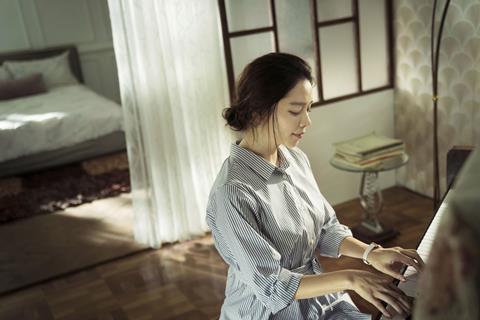 Malaysia's GSC Movies has acquired The Tag Along: Devil Fish, the third film in a successful Taiwanese horror franchise, for ten Southeast Asian territories.
Hong Kong-based Entertaining Power, which is handling international sales on the film, described this as the biggest single sales deal for the three films. The ten territories covered by the deal include Malaysia, Brunei, Singapore, the Philippines, Vietnam, Indonesia, Myanmar, Cambodia, Thailand and Laos.
Taiwanese release is scheduled for November 23, followed by Malaysia on November 29 and Singapore on December 6. The rest of the territories will be dated soon.
Directed by David Chuang, the film marks the return to the big screen of popular Taiwanese actress Vivian Hsu, who has been out of the spotlight since giving birth in 2015. She stars with rising actor Rexen Cheng, who is nominated for best supporting actor at the upcoming Golden Horse Awards for his performance in Gatao 2 - The New Leader Rising.
Like the first two films in the series, The Tag Along: Devil Fish is based on a popular urban legend, but has a different storyline revolving around a group of kids who unknowingly release evil spirits when they catch a demon fish from the river.
Hank Tseng, producer of all three The Tag-Along films, said: "Every country has its own urban legends rooted in that country's deepest fears. The reason why The Tag-Along IP can travel beyond Taiwan is probably because there is something in common that we all fear despite the cultural differences in each country."
Tseng added that The Tag-Along has become the most successful IP that has originated in Taiwan. "When it comes to the third installment, Devil Fish is like a locomotive that draws along various elements developed from the franchise such as the soundtrack, comic books, VR, escape rooms and Line [pan-Asian messaging app] stickers."
All three films in the series are mainly financed by Taiwan's CMC Entertainment, DaMou Entertainment, Sky Films Entertainment and Tseng's Once Upon A Story.
The first film in the series, starring Hsu Wei Ning and River Huang, was released in 2015, while the second film, starring Hsu and Rainie Yang, became the highest-grossing horror of all time in Taiwan when it was released in 2017.
GSC Movies is the distribution arm of Golden Screen Cinemas (GSC), Malaysia's largest cinema exhibitor. GSC also operates cinemas in Vietnam through a partnership with Galaxy Studio.
Outside of Malaysia and Vietnam, GSC Movies plans to work with local distributors or directly with local cinemas to release The Tag Along: Devil Fish.
The producers of the film have also made a VR experience, which will be screened in both Busan and Sitges Fantastic Film Festival.