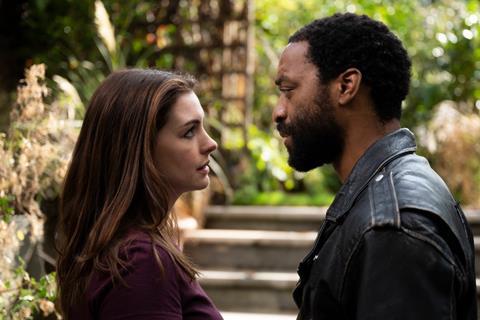 Doug Liman's Locked Down (formerly Lockdown) starring Anne Hathaway and Chiwetel Ejiofor, will launch on HBO Max on January 14 in the US.
AGC Studios fully financed the film, which shot in London during the pandemic late last year.
The feature moved quickly from script to delivery. Screenwriter Steven Knight, who has collaborated with AGC head Stuart Ford previously on Locke and Redemption, delivered the first 50 pages of the screenplay in the run-up to Toronto International Film Festival.
The project was a hot title at the Toronto market and by December it was announced that Warner Bros and HBO Max had snapped up worldwide rights in a deal with CAA Media Finance on behalf of the filmmakers.
Hathaway and Ejiofor star in the story of a couple of the verge of breaking up who find themselves stuck together under lockdown in London and plot to steal a diamond from the iconic Harrods department store.
Rounding out the cast are Stephen Merchant, Lucy Boynton, Ben Kingsley, Mindy Kaling, Ben Stiller, and Dulé Hill.