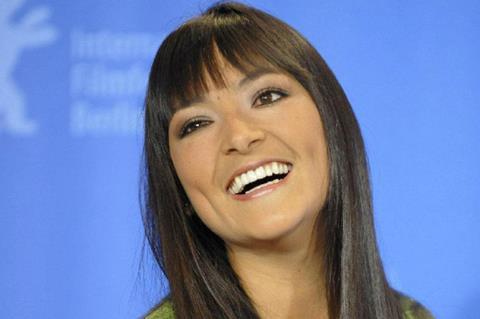 Athens-based Heretic Outreach continues to expand its international portfolio and will kick off sales at the EFM on Generations 14plus selection Retablo from Peruvian first-time filmmaker Alvaro Delgado-Aparicio.
The Peru-Germany-Norway co-production is a coming-of-age story that won best Peruvian film at the Lima Film Festival last August and shot against the backdrop of the Peruvian Andes.
The story follows a young teenager who is groomed to follow in his father's footsteps in the titular folk art of crafting artisanal boxes depicting religious scenes and important everyday events. Magaly Solier from 2009 Golden Bear winner The Milk Of Sorrow stars alongside Amiel Cayo.
Enid "Pinky" Campos served as producer on Retablo and the executive producer roster comprises Lasse Scharpen, Delgado-Aparicio, Iris Roca Rey and Menno Döring. The production companies are: Siri Productions (Peru), Catch Of The Day (Germany) and DHF (Norway). Heretic Outreach holds worldwide rights excluding the Nordic region.
The feature participated in the Sundance Labs and the New Works-in-Progress Forum at Seattle International Film Festival, and was completed with the participation of Siri Perú, Catch of the Day Films, DHF, Peru Ministerio de Cultura, Film und Medien Stiftung NRW, SØR Fond, Sundance Institute, PromPerú and AJE.
"Retablo is the perfect addition to our current slate that sees us reach out of our usual territory towards the rest of the world," Heretic Outreach head of sales and acquisitions Ioanna Stais said. "We fell in love with its mastery of storytelling and depth of emotion, and we're extremely happy to be shepherding it into the world."
"We are very happy and excited to team up with Heretic Outreach and have Retablo as their first Latin American film to represent," Delgado-Aparcio said. "Although Retablo is a story set in the Andes of Peru, we believe it is a universal story that will play in many different corners of the world. It is very important to us to have an International sales agent such as Heretic, with their deep experience in auteur films."
"We are delighted to be in this partnership with Heretic Outreach," Scharpen added. "Their commitment to innovative films and talented filmmakers is widely respected, as is their keen eye for emerging talent."