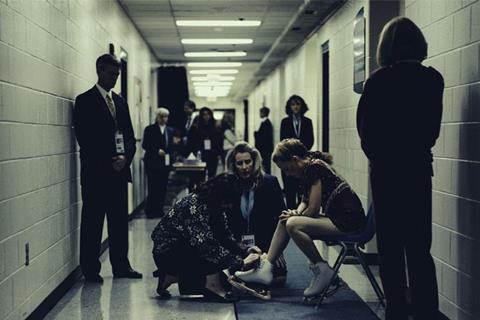 In a surge of deals in Toronto on Monday, Neon and 30WEST acquired US rights to Craig Gillespie's I, Tonya while Netflix picked up Kodachrome for multiple territories, and worldwide rights to Jim & Andy: The Great Beyond – Featuring A Very Special, Contractually Obligated Mention Of Tony Clifton. The Orchard snapped up Louis CK's comedy I Love You, Daddy.

Meanwhile Focus Features took international rights to Greta Gerwig's directorial debut Lady Bird, while A24 acquired North American rights to Australian thriller 1%. Outside of the festival, Lionsgate two films from CAA: Silver Pictures' Sandra Bullock action thriller Vigilance formerly known as Cash Truck, and Roland Emmerich World War Two story Midway.

For I, Tonya, CAA and UTA Independent Film Group fielded two offers on behalf of Miramax shortly after Friday night's world premiere at the Princess Of Wales Theatre. Neon ultimately beat out Netflix and Annapurna on the acquisition of US rights to Craig Gillespie's drama as the filmmakers insisted on a sustained theatrical release. Interest in the Special Presentations selection swelled throughout Saturday and the deal closed on Saturday evening.
Other deals coming out of Toronto include Netflix's acquisition of Mark Raso's road film Kodachrome, starring Jason Sudeikis, Ed Harris, and Elizabeth Olsen; as well The Orchard picking up worldwide rights to Louis C.K.'s comedy I Love You, Daddy, which premiered in Toronto over the weekend. The film stars Louis C.K., John Malkovich, Chloë Grace Moretz, and Rose Byrne.
I, Tonya stars Margot Robbie as Tonya Harding, with Allison Janney playing her mother in roles that have garnered awards buzz. With the distributors planning to release the film this year, Robbie and Janney are expected to be contenders in the awards race.
The deal was negotiated by Neon and 30WEST, and CAA and UTA on behalf of the filmmakers. Bill Block, CEO of Miramax, Adrian Lopez, senior vice-president of business and legal affairs at Miramax, and Vince Holden of AI Films negotiated the deal on behalf of their respective companies.
Miramax acquired US rights to I, Tonya last December in a deal believed to be in the region of $6m. CEO Bill Block put the film back on the market after he assumed the reins last spring and in the run-up to Toronto, CBS Films made a $6m bid. Sierra/Affinity handles international rights.
Additionally, Netflix has acquired worldwide rights to Chris Smith's deep dive into actor Jim Carrey's time spent portraying famed and complicated comedian Andy Kaufman, Jim & Andy: The Great Beyond – Featuring A Very Special, Contractually Obligated Mention Of Tony Clifton. "For almost two decades this brilliant performance from Jim Carrey has resonated with audiences and fans of Kaufman's, but the story behind the film - a true piece of entertainment history has remained largely unknown," Lisa Nishimura, vice-president of original documentaries for Netflix, said on the new acquisition.
In 1999 Milos Forman cast Carrey to play cult comedian Andy Kaufman in his biopic Man On The Moon. Carrey never broke character on set and the cast and crew referred to him as either 'Andy' or 'Tony' depending on who he was embodying – he had created complete and separate identities for each. In Jim & Andy, Carrey looks back at the resulting footage 18 years later, reflecting on how he and Andy came up in oddly parallel universes, his experience channelling Andy and Tony, and more broadly the spiritual journey of his career.
The VICE Documentary Films production Jim & Andy premiered at the 2017 Venice Film Festival and is produced by Oscar-winner Spike Jonze, and VICE Films' Danny Gabai and Brendan Fitzgerald.