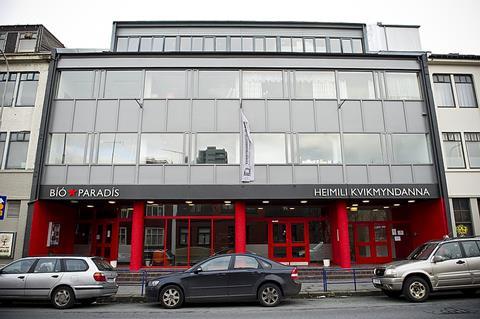 Bíó Paradís, the sole remaining arthouse cinema in Iceland, has been saved from closure and is set to reopen this autumn.
Screen reported earlier this year the group behind the theatre in downtown Reykjavik was making a last-ditch effort to keep the venue open due to a proposed rental hike – a situation further compounded by the Covid-19 pandemic, which saw the cinema close its doors and lay off staff.
But following discussions with city officials, Iceland's Ministry of Education Science and Culture and property owners Karls Mikla ehf, the venue will reopen in September.
Non-profit group Heimili kvikmyndanna – comprised of the professional societies and filmmaking guilds of Iceland – said in a statement: "As reported at the beginning of this year, the future of the cinema was in doubt due to higher rent and the cost of maintenance work on the building necessary for the running of the operation. But thanks to a new agreement with the owners and further cooperation with the state and the city, Bíó Paradís will be able to reopen its doors this fall."
It will mark the 10th anniversary of the cinema, which was opened in 2010 on Hverfisgata, one of Reykjavik's main streets. A petition to save the cinema generated close to 1,800 signatures and was backed up by letters of support from the European Film Academy, which will host its awards in Iceland this winter and annually partners with the venue for its Young Audience Award.
The cinema is also home to the annual Stockfish Film Festival and hosts screenings for the Reykjavik International Film Festival, the International Children's Film Festival in Iceland and other film seasons devoted to German, Polish, Japanese and French films as well as educational screenings for local school children.
The venue also distributes films that would otherwise not be shown in Iceland, such as Oscar-winner Parasite.
A statement from Bíó Paradís added: "We are extremely grateful for all the support we were shown during this uncertain time and are looking forward to continuing our work as Iceland's only arthouse cinema, bringing diverse films from all over the world to Icelandic audiences, educating young audiences in world cinema and being an arts and culture hub in downtown Reykjavík for many years to come."