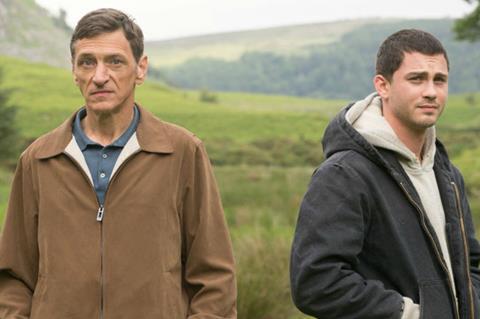 The first footage from the English-language drama End Of Sentence, starring John Hawkes was unveiled during the works- in- progress presentations at Iceland's Stockfish film festival in Reykjavik last week.
US actor Hawkes, who was nominated for a best supporting actor Oscar for Winter's Bone in 2011, stars as a man trying to fulfill his late wife's last wish, to go on a road trip with his son, played by Logan Lerman, to scatter her ashes in rural Ireland. The cast also includes Sarah Bolger, Andrea Irvine and Trapped's Olafur Darri Olafsson.
Iceland-born, London-based director Elfar Aðalsteins makes his feature directorial debut after the award-winning short Sailcloth starring John Hurt. The script is written by Michael Armbruster, whose credits include Beautiful Boy.
Aðalsteins joked End Of Sentence is "an Icelandic production shot in Ireland starring Americans, that's modern filmmaking for you."
It is produced by Aðalsteins for Berserk, David Collins for Samson Films, and Joni Sighvatsson for Palomar Pictures with Guðrún Edda Þórhannesdóttir, John Wallace and Eggert Baldvinsson.
London-based Rocket Science is handing international sales on the project which is now in post-production.
Futher works-in-progress showcased at Stockfish included Silja Hauksdóttir's Agnes Joy, which will be at picture lock in a few weeks. Katla Margrét Thorgeirsdóttir, Donna Cuz, Thorsteinn Bachmann, and Björn Hlynur Haraldsson star in the story of a mother and daughter in small-town Iceland who are both charmed by the same handsome actor. Agnes Joy is produced by Birgitta Björnsdóttir of Vintage Pictures and Rannveig Jónsdóttir.
Another project was Jón Gústafsson and Karolina Lewicka's Shadowtown, about a Canadian woman, played by Brittany Bristow, who inherits a house in Iceland from her grandmother. Family secrets are revealed and the sale of the house is delayed. The producers are Gústafsson, Lewicka, Hlín Jóhannesdóttir and Leif Bristow. The Canada-Iceland co-production is mostly in the English langauge.
Gústafsson said, "At its core it's a story about what we inherit, it's not only money and houses, we inherit our DNA or some people say we inherit the thoughts of our ancestors, or the trauma of our past."
Four other projects had been previously been presented at Goteborg's Works In Progress: Rúnar Rúnarsson's Echo; Fenar Ahmad's Valhalla; Grímur Hákonarson's The County; and Hlynur Palmason's A White, White Day.
Iceland comes together
The fifth annual Stockfish Film Festival ran from February 28 until March 10. It is a collaboration between the film industry guilds in Iceland: The Icelandic Film Makers' Association; The Icelandic Actors Guild; Film Director's Guild of Iceland; Association of Icelandic Film Producers; Icelandic Cinematographers Society, Iceland Dramatists' Union, and Society of Women in Filmmaking. The festival hosts its screenings and events at the Bio Paradis cinema in Reykjavik.
Stockfish also collaborated with the first Taiwan Film Festival Iceland, co-hosting a screening of The Great Buddha followed by a Q&A with director Huang Hsin-Yao.
The Shortfish competition winner XY was directed and produced by Anna Karin Larusdottir, about an intersex teenager. Larusdottir won about $8,000 (1m ISK) in equipment rental from Kukl for her next project.
Visiting international filmmakers at Stockfish included Lucrecia Martel for Zama, Holiday director Isabella Eklof, Phoenix director Camilla Stroem Henriksen, Stupid Young Heart's Selma Vilhunen, Magnus Jonsson for Take 5, Sergio Umansky Brener for Eight Out of Ten, Tolga Karacelik for Butterflies, and Jean Michel Roux for Angel Of The North.
Further guests included Frederic Boyer of Tribeca and Les Arcs, Jay Jeon of Busan, documentary programmer Luciano Barisone, Croatian MEDIA Desk head Martina Petrovic, music licensing and publishing expert Jonathan Finegold, makeup designer Asta Hafportsdottir, and musician Manu Delago.