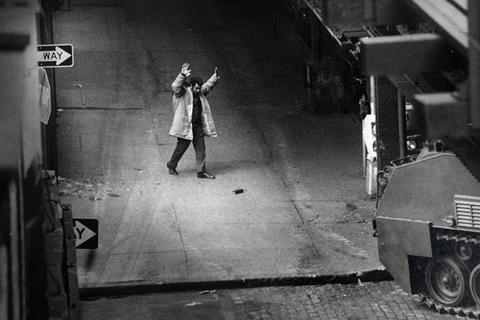 IFC Films has picked up North American rights to police reform documentary Hold Your Fire ahead of the launch of worldwide sales at AFM through Submarine and the upcoming US premiere at Doc NYC.
Stefan Forbes, whose credits include Boogie Man: The Lee Atwater Story, directed the Toronto International Film Festival world premiere about the longest hostage siege in New York Police Department (NYPD) history and the people instrumental in an event that gave rise to modern hostage negotiation.
Hold Your Fire examines the consequences after Shu'aib Raheem and his friends attempted to steal guns for self defence in Brooklyn in 1973, were cornered by the police and engaged in a gun battle that resulted in the death of a police officer and triggered a siege.
The police's 130-year-old policy was to deliver an ultimatum and respond with deadly force, however maverick NYPD psychologist Harvey Schlossberg fought to avert a bloodbath, reform police methods, and save the lives of hostages, police and the four young Muslim men at the heart of the conflict.
Fab 5 Freddy, Forbes, Tia Wou and Amir Soltani served as producers with consulting producer Sam Pollard. After the US premiere at Doc NYC, which runs November 10-28, IFC Films plans a 2022 release.
IFC Films president Arianna Bocco and manager of acquisitions and productions Adam Koehler brokered the deal with Submarine Entertainment on behalf of the filmmakers.
Bocco said, "As he has done previously with his stellar film Boogie Man, Stefan has done a remarkable job portraying all sides of this complex story, while advocating only for transparency. He has highlighted the impact one person can make in the lives of many and makes a powerful case for why police reform is incredibly urgent. We couldn't be happier to partner with him and his team to screen this film for North American audiences."
Forbes added, "It's an honour to team up with IFC Films, who are known for their taste and creative vision. We're excited to release this film as our nation grapples with racial tension and the spectre of increased political violence. We hope Dr. Schlossberg's keen insights on conflict resolution can help Americans learn to hold our fire."