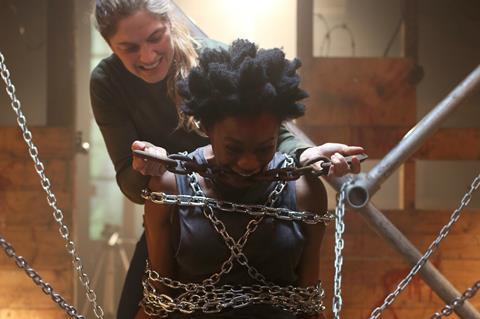 Shooting has wrapped in North Bay, Canada, on A71 Productions' action title She Never Died, a companion piece to the company's 2015 film He Never Died starring Henry Rollins.
Audrey Cummings directs from a screenplay by He Never Died director Jason Krawczyk about a tough-as-nails immortal female protagonist who metes out justice to psychopaths.
Olunike Adeliyi, who will be seen in Doug Liman's Chaos Walking and is pictured with Cummings, stars alongside Michelle Nolden, Peter MacNeil, Noah Danby, and Kiana Madeira.
Jennifer Mesich of White Eagle Entertainment is producing, and Toronto-based A71 Productions president David Miller serves as executive producer with Zach Hagen and Krawczyk of AES Productions, Bill Marks of Vortext Pictures, and Dan Peel of Theatre D / Urban Post Production.
A71 Entertainment will distribute in Canada and V71 Entertainment handles international sales. Further deals are expected to be announced shortly.