Entertainment's comedy sequel crosses £20m mark with non-final $7.2m (£4.3m) second weekend.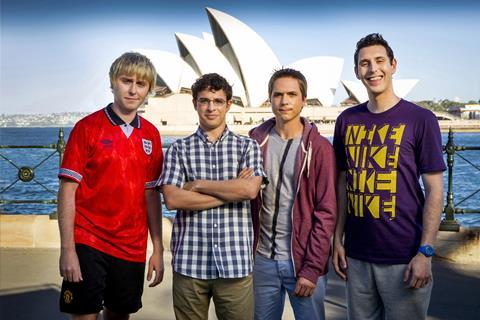 Echoing the first film's achievement, The Inbetweeners 2 has retained the top spot at the UK box office for the second consecutive week.
Entertainment's comedy sequel posted an excellent non-final second weekend of $7.2m (£4.3m), a respectable drop of 46% (excluding previews), to soar past the £20m mark after just 11 days in play.
Following a healthy Mon-Thurs return of $9.2m (£5.5m), The Inbetweeners 2 has already amassed $37.4m (£22.4m) which comfortably makes it the highest grossing live action comedy of the year.
At the same stage in its run, The Inbetweeners Movie stood at $43.3m (£25.9m) following a 34% drop (excluding previews) in its second weekend for $9.5m (£5.7m), before going on to take $75.3m (£45m). The sequel is unlikely to surpass that, but a tally of over £30m is a strong possibility.
DISNEY
Remaining firm in second was Disney's Guardians of the Galaxy with an excellent $3.5m (£2.1m) third weekend for $31.4m (£18.8m) to date.
In terms of Marvel outings in the UK, that puts Guardians on the cusp of overtaking Captain America: The Winter Soldier's $31.9m (£19.1m) and, barring a marked collapse, puts it on course to become the third biggest Marvel outing to date ahead of Iron Man 2's $35.5m (£21.2m).
Also for Disney, Planes 2: Fire & Rescue added $846,000 (£505,949) in its second weekend of nationwide release and has now flown to $4.2m (£2.5m).
LIONSGATE
The week's highest new entry came in the form of Lionsgate's The Expendables 3 with a $2.8m (£1.7m) debut, including $633,000 (£378,453) in previews, from its 464 sites.
That marks the lowest debut of the trilogy in the UK, previously The Expendables 2's $3.3m (£2m) bow from 451 sites which included $728,000 (£435,000) in previews. The Expendables 3's Fri-Sun tally of $2.2m (£1.3m) is also the lowest of the trilogy to date.
The sequel went on to make $10m (£6m) in the UK (down on The Expendables' £10.6m), and the threequel will be hoping its 12A certificate can see it past that tally over the remaining school holidays.
FOX
Dawn of the Planet of the Apes will shortly become only the second 2014 release to hit the £30m mark in the UK.
Fox's sequel recorded a fifth straight weekend above £1m with $1.8m (£1.1m) to climb to a superb $49.5m (£29.56m). It's already the second biggest release of the year in the UK, even if the current $57.3m (£34.25m) tally of The Lego Movie may prove beyond its reach.
Also for Fox, How to Train Your Dragon 2 rounded off this week's top five with $1.1m (£646,794) for an impressive $35.4m (£21.2m) so far.
UNIVERSAL
Thanks to its almost sold-out run, Secret Cinema's production of Back to the Future held steady in its third weekend with $888,000 (£531,000) and has now grossed $3.5m (£2.12m) in the UK through Universal.
Also for Universal, The Purge: Anarchy took $266,000 (£159,000) for $7.4m (£4.42m) after four weeks in play, as Boyhood reached $4.1m (£2.46m) following a $189,000 (£113,000) sixth weekend.
WARNER BROS
Now in its third weekend, Warner Bros' animation The Nut Job squirreled away a further $502,000 (£300,000) for a UK tally of $4.4m (£2.6m) to date.
KOCH MEDIA
Hector and the Search for Happiness got off to a soft start at the UK box office with $402,000 (£240,222) from its 278 sites through Koch Media.
That marks one of the lowest debuts for director Peter Chelsom in the UK, below the likes of the $1.1m (£635,042) opening of Serendipity from 237 sites.
PARAMOUNT
Crossing the £5m mark in its fourth weekend was Paramount's Hercules after a $338,000 (£202,000) weekend saw it reach $8.7m (£5.18m).
Also for Paramount, Transformers: Age of Extinction stands at $32.3m (£19.31m).
VERTIGO FILMS
Having expanded to 350 sites nationwide, Vertigo Films' The Unbeatables was off target with a $271,000 (£162,055) weekend for $371,000 (£221,672) to date.
EONE
The Rover stalled somewhat on its UK bow, opening with a non-final $115,000 (£68,670) from its 58 sites through eOne. That's down on David Michôd's directorial debut Animal Kingdom, which debuted with $259,000 (£155,081) from 66 sites in 2011.
Also for eOne, Earth to Echo has grossed $4.1m (£2.4m).
STUDIOCANAL
Ari Folman's The Congress got off to an $81,000 (£48,267) start at the UK box office from its 40 sites through StudioCanal, including just over $30,000 (£18,000) in previews.
That's less than half the $189,000 (£113,087) opening of Folman's Waltz with Bashir from its 54 sites.
DOGWOOF
Released in nine sites through Dogwoof, Sundance 2014 title Dinosaur 13 scored a UK bow of $2,800 (£1,693).
METRODOME
Toronto 2013 title We Gotta Get Out of This Place posted a UK debut of $2,500 (£1,471) from its two sites through Metrodome.
UPCOMING RELEASES
This week sees saturation releases for eOne's What If (opens Aug 20), Warner Bros' Into the Storm and Universal's Lucy, as Sony's Deliver Us from Evil and Artificial Eye's Two Days, One Night both receive wide releases.
Lionsgate's Sin City: A Dame to Kill For opens in the West End ahead of its nationwide release on Aug 29 (with previews from Aug 25), while Metrodome's God Help the Girl and Soda Pictures' The Police Officer's Wife are among the films receiving a limited release.