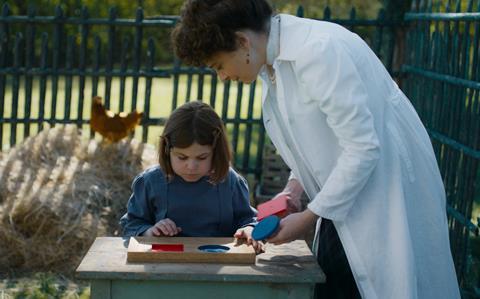 Indie Sales has boarded Léa Todorov's first feature Maria Montessori and has released a first look image from the project, which is currently in post-production.

The Franco-Italian co-production intertwines the real-life story of visionary Italian physician and educator Montessori with a fictional Parisian cabaret star hiding her child diagnosed with a disability to protect her career. The film's French title is La Nouvelle Femme.
Set in the early 1900s, the film stars Jasmine Trinca (Fortunata, House of Tolerance) as the titular character, known for her teaching experience with children with learning challenges that led to the founding of the now famous Montessori method. The child-centric educational system encourages individual students to learn at their own pace in classrooms with children of varying ages and teachers who encourage independence.
Leila Bekhti (The Restless, A Man in a Hurry) co-stars as a Parisian woman who heads to Rome to attempt to leave her child at the school in Italy. Montessori is also hiding her own secret child born out of wedlock and two women end up helping each other earn their place in a man's world and making history in the process.
The film is produced by Grégoire Debailly for France's Geko in co-production with Italy's Tempesta Film and will be released in France by Ad Vitam. Indie Sales will bring a promo reel for the film to the EFM.
Indie Sales CEO & co-founder Nicolas Eschbach said that he and his team "were truly moved by this portrait of a woman ahead of her time, carried by the very talented Jasmine Trinca as Maria Montessori. Together with Leïla Bekhti, she delivers a poignant performance highlighting the dilemmas faced by emancipated women at that time."
Todorov added: "While Maria Montessori's ideas are now well-known around the world and benefit children everywhere, I was particularly interested in depicting how she initially worked with special needs children to elaborate the foundations of her method."
Indie Sales is heading to EFM with two festival films: Milad Alami's Panorama title Opponent about a man and his family forced to flee Iran who end up in a run-down hotel in Sweden and Generation 14+ selection Zeno Graton's The Lost Boys set in a youth correctional facility.
It is also hosting the first screenings for animated sequel Richard The Stork 2 that has already inked several pre-sales and whose first installment was sold to 155 territories. Also on Indie Sales' EFM slate are continued sales for Marc Fitoussi's Two Tickets to Greece starring Kristin Scott Thomas, Laure Calamy and Olivia Cote already boasting a strong box office in France since its January 11 release, Noémie Lvovsky's 1920s set The Great Magic that hits French theatres on Wednesday, plus Matthias Gokalp's The Assembly Line and Emad Aleebrahim Dehkordi's A Tale of Shemroon.