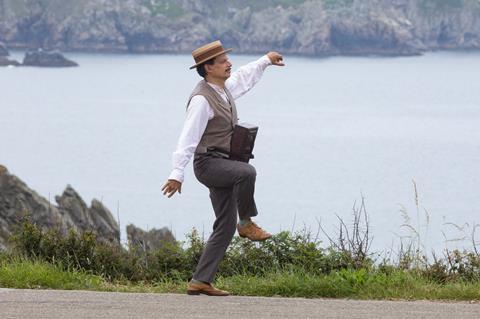 Paris-based Indie Sales has acquired worldwide sales rights to French actress and director Noémie Lvovsky's 1920s comedy-drama The Great Magic about a couple whose relationship is put to the test when the wife vanishes during a magician's act, now in post-production.
Freely adapted from late Italian playwright Eduardo de Filippo's 1948 work La Grande Magia, it stars Denis Podalydès and Judith Chemla as a couple who are staying in a beautiful seaside hotel as their marriage is falling apart. During a magic show for the guests, a charlatan magician makes the wife disappear. The magician then hands the husband a box, saying she is inside but that he should only open it if he has absolute faith in his wife, otherwise she will disappear forever.
The ensemble cast also features also features Sergi López, François Morel, Rebecca Marder and Damien Bonnard as well as Lvovsky.
The film will also feature a soundtrack composed by up-and-coming French pop band Feu! Chatterton, which featured as a support act on U2's 'U2: The Virtual Road' tour last year.
It is Lvovsky's seventh feature after Tomorrow And Thereafter, which world premiered in Locarno in 2017, and Camille Rewinds which was the closing film of Cannes Directors' Fortnight in 2012. She has also appeared in a raft of features including most recently Teddy andHow To Be A Good Wife.
"Noémie Lvovsky tells a poetic love story helped by the talented well-known ensemble cast," said Nicolas Eschbach, CEO and co-founder of Indie Sales.
The Great Magic is produced by Thomas et Mathieu Verhaeghe for Atelier de Production, the Paris-based production house behind features such as Playlist, Deerskin and Keep an Eye Out. Ad Vitam will release the film in France in 2022.