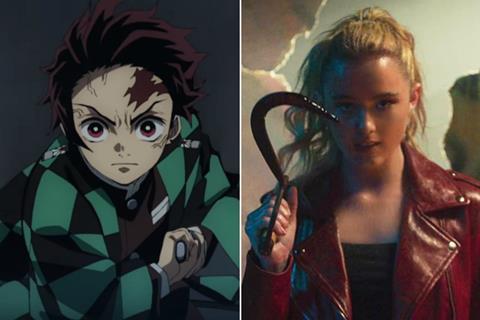 Demon Slayer breaks IMAX record in Japan
Japanese anime Demon Slayer The Movie: Mugen Train proved reliably robust in its fifth week of release in Japan, dropping just 3% from the previous weekend at its IMAX screens. The IMAX total is now $14.2m, overtaking Bohemian Rhapsody ($13.4m) to become the biggest success on the format in the country.
Across all cinemas, weekend numbers are unconfirmed, but the total for distributors Toho and Aniplex is now estimated at $230m, making Mugen Train (aka Infinity Train) the fifth-biggest film of all time at the Japanese box office, after Spirited Away, Titanic, Frozen and Your Name. Studio Ghibli's Spirited Away grossed 30.8bn¥ in Japan ($295m at current exchange rates).
This coming weekend, the film – which is adapted from Koyoharu Gotoge manga Demon Slayer: Kimetsu No Yaiba, and is directed by Haruo Sotozaki – will face strong competition in Japan from a new Toho release: Stand By Me Doraemon 2. The original Stand By Me Doraemon, adapted from the Fujiko Fujio manga, grossed $79m in Japan in 2014, and $183m worldwide.
The Sacrifice hits $150m in China
New releases including Paw Patrol: Mighty Pups and Find Your Voice failed to dislodge Chinese war film The Sacrifice from the top of China's box office. The film – which is set in 1953 towards the end of the Korean War – grossed $9.2m in its fourth session for China Film, taking the total to $150m.
Family animation Paw Patrol: Mighty Pups grossed $5.5m for second place, with Hellboy in third with $4.6m for the weekend period, and $10.3m since its release on Monday November 9. Find Your Voice, a China-Hong Kong co-production starring Andy Lau as a singing teacher, landed in fourth place with $3.5m, while chart veteran My People, My Homeland rounds out the top 5 with $3.1m, and a cumulative total of $422m.
Freaky tops Australia box office
Universal's release of Freaky in Australia benefited from the reopening of cinemas in the state of Victoria at the weekend, albeit with robust social distancing measures in place. The body-swap horror comedy debuted at the top spot in Australia with Aus$586,000 ($428,000), knocking local comedy-drama Rams (a remake of the Icelandic film of the same name) off the top spot.
Freaky was just ahead of Tenet, which surged back up to second place in its 12th weekend of play, boosted by the reopenings in Victoria (which includes Melbourne). Tenet grossed Aus$582,000 ($425,000 – a rise of nearly 500% from the previous session), takings its total in Australia to Aus$12.75m ($9.31m).
Freaky stars Kathryn Newton and Vince Vaughn as a high-school teen and a serial killer who swap bodies. The Universal/Blumhouse production is directed by Christopher Landon, whose previous films include entries in the Paranormal Activity and Happy Death Day franchises.
Overall, Freaky landed in 20 international markets as well as domestically in North America, grossing $1.91m for the former and $3.71m at home – for a $5.62m total. Releases in key European markets – including the UK – have been delayed until national lockdowns are lifted.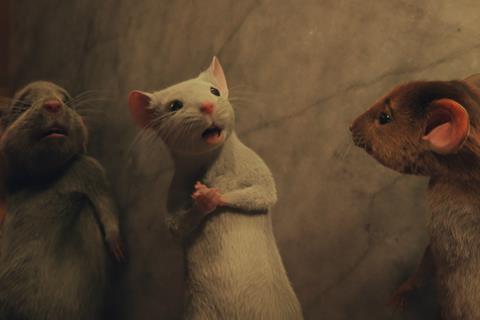 The Witches adds $1.8m for $13.2m total
The third session for Warner Bros' The Witches saw Robert Zemeckis's Roald Dahl adaptation gross an estimated $1.8m – down from $3.7m in its second weekend of play. Total after 17 days is $13.2m.
With cinemas now closed across most of Europe, the film is currently playing in 21 international markets. The weekend saw Mexico ($372,000) out-perform Russia ($355,000) as the top market for the film, with Taiwan ($230,000) in third place.
In cumulative totals, Russia – the top performer for the first two weeks of release – remains the champion, with $3.8m. Mexico ($2.2m) and Saudi Arabia ($1.3m) are the next strongest markets so far.
The comedy-fantasy premiered on HBO Max in the US, and is available via premium VOD in the UK. Brazil opens the film this week on Thursday November 19.
Local comedy and Oscar contender succeed in Serbia and Bosnia
Serbian distributor MegaCom Film (MCF) is celebrating the success of local comedy Weekend With Pop (Vikend sa Caletom), which has topped Serbia's box office for three weeks in a row, since its release on October 29 into 46 cinemas. Admissions total after 18 days is 39,896, and box office total is $159,000. The film is written and directed by Miroslav Momcilovic, whose previous films include romantic drama A Stinking Fairytale (2105) and comedy-drama Death Of A Man In The Balkans (2012).
In Serbia's latest box office chart, Weekend With Pop leads the line-up, ahead of Honest Thief in second place, and Freaky in third.
Meanwhile in neighbouring Bosnia-Herzegovina, the critically acclaimed Quo Vadis, Aida? – submitted as the country's entry to the International Film Oscar – has been enjoying a long run of success since release on October 10. Jasmila Zbanic's drama tells the story of a Bosnian interpreter and her family at a United Nations camp run by Dutch peacekeepers next to the town of Srebenica, and is inspired by the massacre that occurred in July 1995.
Quo Vadis, Aida? topped the Bosnia-Herzegovina box office for three weeks in a row, and has generated 7,728 admissions so far. The film has succeeded in the face of challenges including cinemas in the Serb-dominated Republika Srpska region of the country, which is 49% of the land area, opting not to show it, reports distributor Deblokada, which also produced the film in a multi-territory coproduction. The Quo Vadis, Aida? admissions total is just ahead of Tenet, which released more recently (on October 30), but has played the entire country.
Quo Vadis, Aida? premiered at the Venice Film Festival in September, and then played Toronto International Film Festival the same month. Next territory to release the film is Netherlands, in February.