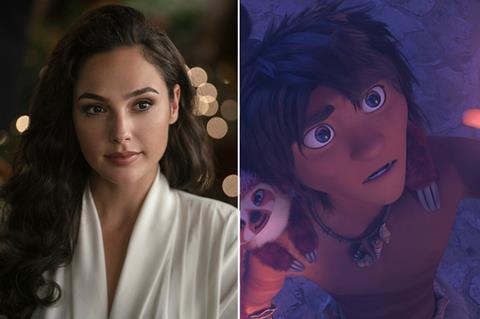 'Wonder Woman 1984' close to $100m in international markets
Estimated weekend takings of $4.7m in international markets pushed Wonder Woman 1984 to a $98.8m international total. Add in the $32.6m grossed so far in North America, and the Warner Bros/DC Films sequel has reached $131.4m globally.
The $4.7m international tally compares to $9.7m for the previous weekend – a drop of 52%. Top contribution came from Australia, which remains one of the global markets performing relatively well currently. Wonder Woman 1984 grossed $1.5m there at the weekend; while that's significantly down from the previous session's $3.2m, this was still far and away the strongest international number.
Brazil, which saw cinemas reopening in Sao Paulo from Friday, enjoyed a 52% box office rise from the previous weekend with the film, and was the second-strongest international market with $624,000.
Imax screens account for $8.8m so far in international markets, which is 8.9% of the film's total.
In the international league table of cumulative totals for Wonder Woman 1984, Australia ($14.5m) ranks second, after China ($25.3m), and ahead of Taiwan ($8.4m), Japan ($4.8m), Brazil ($4.8m) and Korea ($4.0m).
Next come Mexico and Spain, both with $3.8m. Spain, where cinemas are operating with restrictions but nevertheless functioning as a market, added $500,000 for the film in the past seven days – and the country is its top European territory. Russia, where Wonder Woman 1984 achieved $400,000 in previews at IMAX cinemas alone at the weekend, officially opens this Thursday (January 14).
The original Wonder Woman grossed $409m in international markets in 2017, and $413m in North America for a $822m global total.
'The Croods: A New Age' stays strong in Russia and Australia
The Croods: A New Age grossed an estimated $5.05m from 17 international markets at the weekend, taking the international total to $91.0m. The weekend tally represents a 34% drop from the previous session. In North America, the Dreamworks Animation sequel grossed $1.81m for Universal, taking the domestic total to $36.9m. Globally, The Croods: A New Age has now reached an estimated $127.8m – and is closing the gap with Wonder Woman 1984.
The film stayed strong in its current top market at the weekend, Russia, dropping just 14% for $2.16m, and a $10.7m total. In second best market Australia, the hold was pretty decent, falling 30% for weekend takings of $1.5m and $10.2m to date. Universal reports that a three-day hard lockdown in Brisbane took the shine off the numbers, knocking the market by about 10%.
Russia and Australia between them accounted for $3.78m, or 75% of The Croods: A New Age's international weekend takings. The other 15 territories delivered 25% of the weekend total.
The other best-performing markets for the film at the weekend are geographically adjacent to Russia and Australia: New Zealand delivered $314,000 (for a $1.59m total) and Ukraine achieved $262,000 (and a $1.15m total).
Key markets including Brazil, France, Germany, UK, Italy, South Korea and Japan are yet to open, with release dates pushed back to the Easter corridor due to market conditions. In 2013, The Croods grossed $187m domestically and $400m internationally (via 20th Century Fox) for a $587m worldwide total.
Local hit 'The Dry' moves up to top of Australia box office
While Wonder Woman 1984 and The Croods: A New Age both performed strongly at the Australia box office, neither film could quite match local title The Dry, starring Eric Bana. The Roadshow release enjoyed a strong hold, declining 22% from its opening session. Weekend box office of Aus2.04m ($1.57m) was just ahead of Wonder Woman 1984 with Aus$1.97m ($1.52m) and The Croods: A New Age with Aus$1.94m ($1.50m). Essentially, all three films were neck and neck at the top of the Australia box office.
Total for The Dry after two weekends of play is Aus$6.92m ($5.33m). Bana stars in this adaptation of Jane Harper's 2016 bestselling debut novel about a federal police agent returning to a struggling farming community for the funeral of his childhood best friend. Robert Connolly (2014's Paper Planes) directs and co-writes the screenplay.
Sony's videogame adaptation Monster Hunter remained in fourth place, with Aus$530,000 ($409,000), and a total of Aus$1.87m ($1.44m). Emerald Fennell's awards contender Promising Young Woman, starring Carey Mulligan, landed in fifth place with Aus$498,000 ($384,000) for Roadshow.
'A Little Red Flower' stays on top in China
Local drama A Little Red Flower took a further $21.9m over the three-day weekend for pole position in China's weekend chart for a cumulative total of $160.3m. Full China box office report here.