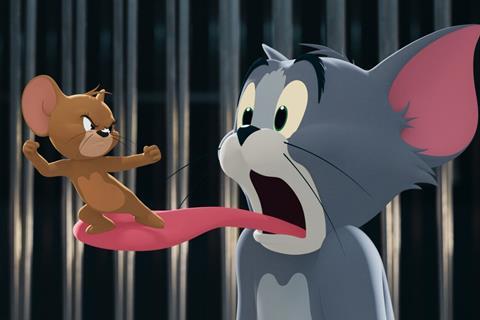 'Tom And Jerry' delivers $19m international punch
Warner Bros animation Tom And Jerry expanded from 16 to 35 international markets in its third weekend of play, hitting key territories including China, Russia and South Korea, and delivering an estimated $19.4m for the weekend period, up from $2.7m for the previous session.
The spinoff also opened in North America, where it grossed an estimated $13.7m. That combines with international to deliver $33.1m for the weekend, taking the global total to $38.8m.
Top market internationally was China, with an estimated $12.3m, ranking in fourth place behind local titles. This was followed by $3.3m in Russia where the film topped the chart, elbowing aside local hit Upon The Magic Roads (see below). In Korea, Tom And Jerry debuted with an estimated $694,000.
Brazil and Mexico saw the film perform strongly on its second weekend, holding on to the top spot in both markets with a respective drop of 28% and rise of 9%.
In cumulative totals, China tops the international league table, followed by Russia, United Arab Emirates ($1.1m), Brazil ($1m), Mexico ($987,000), Taiwan ($937,000), Singapore ($899,000) and Colombia ($730,000).
In North America, Tom And Jerry has delivered the largest opening of the year, and the second biggest opening of the pandemic era (after Tenet's $20.2m). The film debuted simultaneously on HBO Max in the US for a limited 31-day period.
Tom And Jerry continues its rollout into a number of smaller markets in the coming weeks.
'Demon Slayer The Movie: Mugen Train' tops Australia box office
Japanese anime Demon Slayer The Movie: Mugen Train scored a stellar opening at the Australia box office for local distributor Madman, knocking Warner Bros' Denzel Washington crime thriller The Little Things off the top spot, with debut takings of Aus$1.86m ($1.44m).
The film is based on the manga series Demon Slayer: Kimetsu No Yaiba by Koyoharu Gotouge, which was also adapted into a 26-episode Japanese TV series in 2019.
Demon Slayer The Movie: Mugen Train is the biggest box office hit of all time in Japan, with ¥37.8bn ($355m), following its release there last October. The film also scored in markets including South Korea and Hong Kong.
In Australia, The Little Things, which also stars Rami Malek and Jared Leto, fell to second place, with takings of Aus$969,000 ($751,000), a decline of 29% from its opening session. Total after two weekends of play is Aus$3.15m ($2.44m).
Roadshow's crime drama The Dry, starring Eric Bana, remained in the top three for the ninth week in a row, with takings of Aus $436,000 ($338,000), and a cumulative total of Aus$18.8m ($14.6m).
Action sci-fi Boss Level, starring Frank Grillo, Mel Gibson and Naomi Watts, landed in fourth place with Aus$410,000 ($318,000) for Rialto. Joe Carnahan (The A-Team, The Grey) directs this story of a retired special forces officer who is trapped in a time loop, leading to his repeated death. Boss Level arrives in US homes on March 5 courtesy of Hulu.
Sony Russia hit 'Upon The Magic Roads' stays strong in second session
Sony Pictures Releasing International's local hit Konyek Gorbunok (Upon The Magic Roads) gave Tom And Jerry a run for its money, yielding the box office top spot in its second weekend of play, but with solid estimated box office of $3m.
The film dipped 22% from the opening weekend which, at $3.8m, ended up being much higher than estimates reported last week suggested. Total after two weekends is $11.2m, which is the third-highest total for a local film in Russia in the past 12 months.
The family adventure is based on a Russian fairy tale, and tells the story of John the Fool and his friend Foal as they set out on adventures in magical worlds.
'Soul' adds $1.9m; 'The Little Things' adds $1.2m
Disney's Soul and Warner Bros' The Little Things continued their international runs, adding an estimated $1.9m and $1.2m respectively.
Pixar animation Soul had its best result in South Korea, adding an estimated $700,000 (a drop of 34%), and in Hong Kong, which saw takings rise 36% in the film's second session, adding $600,000 and moving up to the top of the territory's box office chart. Russia comes next, with weekend takings of $500,000 (down 40%).
Total for Soul is $112m, which is substantially driven by China ($57.7m to date), Russia ($17.2m) and South Korea ($15.8m). The film is currently playing in six markets where Disney+ does not operate, and this coming weekend arrives in Poland, where cinemas recently reopened.
The Little Things' weekend haul of $1.2m brings the international total to $10.3m. Adding in North America's $12.9m, the global total now stands at $23.2m. The film topped the box office in Spain, where cinemas are beginning to reopen, with $140,000 from 134 sites.
In cumulative totals, top international markets are Russia ($3m), Australia ($2.5m) and Saudi Arabia ($1.4m). The film arrives in Brazil and Mexico on March 11.