Warner Bros' sci-fi posts strong second weekend of $5.9m (£3.8m) for $18.9m (£12.1m) to date; The Imitation Game posts StudioCanal's second best-ever UK bow with confirmed $4.29m (£2.74m).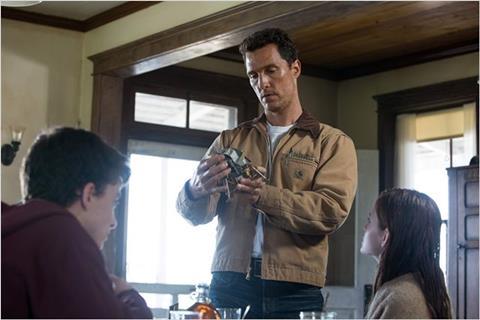 Ahead of the arrival of Katniss and co this week, Interstellar posted a terrific hold at the UK box office to remain top for the second straight week.
Warner Bros' sci-fi fell just 30% on its strong launch for $5.9m (£3.8m) to stand at $18.9m (£12.1m) so far. Inception fell a similar amount in its second weekend and had taken $22.2m (£14.2m) at the same stage.
Inception's $56m (£35.8m) UK haul is probably a step too far for Interstellar, but if it manages a similar hold this coming weekend, a UK result of at least £25m is a definite possibility.
STUDIOCANAL
This week's highest new entry came in the form of StudioCanal's The Imitation Game as it charted second with an excellent confirmed $4.29m (£2.74m) debut from its 459 sites, including previews of $74,000 (£47,000).
Director Morten Tyldum's English-language debut achieved the distributor's second best-ever UK opening, narrowly behind Tinker Tailor Soldier Spy's $4.4m (£2.81m) from 382 sites. Its holdover this coming weekend will give an indication if it can challenge Tinker Tailor Soldier Spy's final $22.2m (£14.2m) result.
Non-Stop had previously become StudioCanal's second best-ever debut earlier this year with $4.14m (£2.65m) from 453 sites.
EONE
Proving that it's more of a enduring series than critics would believe, eOne's Nativity 3: Dude, Where's My Donkey?! landed third with a healthy $2.8m (£1.8m) opening from its 453 sites.
That marks the biggest debut of the series to date, topping Nativity 2: Danger in the Manger!'s $2.5m (£1.6m) from 435 sites. The first family competition of the festive season arrives on Nov 28 in the form of Paddington, as Nativity 3 aims to top Nativity 2's $14.4m (£9.2m) UK result.
Also for eOne, the arrival of The Imitation Game didn't affect Mr. Turner too much as it fell a respectable 28% for a $1.2m (£735,998), aided by an expansion to 393 sites in its third weekend. Mike Leigh's biopic has now grossed $6.8m (£4.4m) to date.
Nightcrawler has captured $4.3m (£2.8m) after three weeks in play.
FOX
Rounding off this week's top five, Fox's The Drop recorded a solid UK bow of $964,000 (£616,103) from its 342 sites. That already marks director Michael Roskam's best-ever UK performance, unsurprising given that Bullhead's widest reach was 17 sites.
Also for Fox, Gone Girl continued its fantastic UK run by dropping a mere 32% in its seventh weekend on its way to $709,000 (£453,349) for $33.7m (£21.54m). David Fincher's adaptation is now tracking ahead of the highest grossing 18-rated film of all time in the UK, The Wolf of Wall Street, which stood at $33.6m (£21.46m) at the same stage.
The Book of Life and The Maze Runner stand at $8.4m (£5.4m) and $13.6m (£8.7m), respectively.
PARAMOUNT
Now in its fifth weekend, Paramount's Teenage Mutant Ninja Turtles took an additional $681,000 (£436,000) slice of the UK box office and has now amassed a sturdy $21m (£13.5m).
SONY
Fury rolled to a further $561,000 (£359,000) after a 47% drop in its fourth weekend to reach $12.3m (£7.9m) through Sony.
Also for Sony, Third Person was released in 10 sites and grossed $4,700 (£3,000). Unsurprisingly, that's director Paul Haggis' lowest-ever UK debut but it's also the smallest release of any of his films by some distance.
UNIVERSAL
Ouija has now summoned up $5m (£3.2m) in the UK after a $481,000 (£307,787) third weekend through Universal.
DISNEY
Falling 51% in its fourth weekend of nationwide release, Disney's Alexander and the Terrible, Horrible, No Good, Very Bad Day is up to $4.8m (£3.05m) following a $244,000 (£156,000) weekend.
KOCH MEDIA
With a one day special event at 14 sites on Thursday [Nov 13] and screenings at four sites on Saturday [Nov 15], Redirected scored an excellent $92,000 (£58,640) UK bow through Koch Media.
The film benefitted from support from the Lithuanian community and achieved its gross without wider support from circuit chains, given it's out on VoD next month. Its top site was Showcase Newham, with $39,000 (£25,200) taken over the two days.
ARTIFICIAL EYE
Leviathan is now director Andrey Zvyagintsev's best-ever UK performer. Artificial Eye's Russian Foreign Language submission added $43,000 (£27,762) from its 18 sites for $137,000 (£87,841) to date.
ICON FILM DISTRIBUTION
Losing almost half of its sites in its second weekend, Icon's Say When took $19,000 (£12,411) from 66 sites for $274,000 (£175,327) after ten days in play. Your Sister's Sister is likely to remain director Lynn Shelton's highest UK grosser at $477,000 (£305,000).
DOGWOOF
Released in seven sites through Dogwoof, Life Itself posted a $5,200 (£3,312) UK debut. That's ahead of the $3,800 (£2,462) bow of The Interrupters from four sites, director Steve James' last UK outing.
UPCOMING RELEASES
This week sees saturation releases for Lionsgate's The Hunger Games: Mockingjay Part 1 (opens Nov 20), Universal's Get On Up and eOne's The Homesman.
Curzon Film World's My Old Lady and Metrodome's What We Do in the Shadows both receive wide releases, while Sony's No Good Deed and New Wave's Winter Sleep are among the films that are receiving a limited release.