Warner Bros' sci-fi takes $8.6m (£5.4m) from its 578 sites to dethrone Turtles; eOne's Mr. Turner climbs up to second with $1.6m (£1.01m).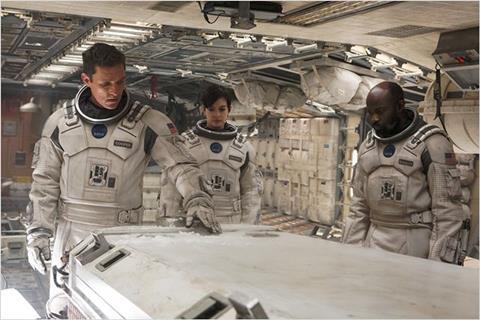 Without a major competitor opening against it, it was never a case of if Interstellar would top the UK box office on debut, but with how much.
The result? Warner Bros' sci-fi posted a $8.6m (£5.4m) launch from its 578 sites. $1.3m (£847,102) of its opening gross came from IMAX screens.
That marks director Christopher Nolan's fourth-best UK opening overall, and second best for an original property behind Inception's $9.4m (£5.9m) from 452 sites.
In the same release window last year, stablemate Gravity took $9.9m (£6.2m) from 539 sites, including $985,000 (£619,086) in previews. Arguably, Interstellar recorded a better performance given Gravity benefitted from both IMAX and 3D surcharges and, at over an hour shorter, enjoyed more showtimes.
Whether Interstellar can match Gravity's terrific run, which ended at $52m (£32.7m) earlier this year, remains to be seen. Like Gravity, Interstellar's first heavyweight competitor arrives in just ten days in the form of the latest Hunger Games.
Also for Warner Bros, Annabelle has now scared up $11.8m (£7.4m) after a $193,000 (£121,100) fifth weekend.
EONE
Expanding to 253 sites nationwide, Mr. Turner followed up its excellent UK debut with a strong $1.6m (£1.01m) second weekend, at a site average of just over $6,400 (£4,000), to move up to second.
eOne's biopic is now up to $4.2m (£2.67m) after just ten days in play and is now director Mike Leigh's best-ever UK performer, outgrossing the $3.8m (£2.38m) result of Vera Drake.
Also for eOne, Nightcrawler posted a second weekend of $867,000 (£545,221) for $3.5m (£2.2m) to date.
PARAMOUNT
Last week's resurgent champion Teenage Mutant Ninja Turtles fell to third with a $1.2m (£739,000) fourth weekend. Paramount's reboot is now up to a decent $20.5m (£12.9m) in the UK.
FOX
Falling just 33% in its sixth weekend, Gone Girl remained in fourth with $1.1m (£694,920). Fox's adaptation is now up to $32.8m (£20.6m) and, as expected, is now director David Fincher's best-ever UK performer.
Its quest is now to attempt to become the UK's highest grossing 18 rated film of all time, currently The Wolf of Wall Street's $36.1m (£22.7m). At the same stage in its run, Wolf stood at $33.1m (£20.8m).
Also for Fox, The Book of Life enjoyed a $1m (£654,808) third weekend after a 29% drop for $7.7m (£4.9m) to date, while The Maze Runner is up to $13.3m (£8.3m) after five weeks in play.
SONY
Now in its third weekend, Sony's Fury rolled to an additional $1.07m (£674,430) for $11.2m (£7.1m) to date.
Also for Sony, The Skeleton Twins opened with $31,000 (£19,204) from its 85 sites, most of which would have been on split screens.
UNIVERSAL
Falling 52% after its decent Halloween bow, Ouija possessed $1.04m (£653,678) for $4.1m (£2.6m) after ten days in play through Universal.
Also for Universal, The Boxtrolls has stacked up $13.4m (£8.5m).
DISNEY
With a drop of almost 40% in its third weekend of nationwide release, Disney's Alexander and the Terrible, Horrible, No Good, Very Bad Day added a further $509,000 (£320,000) for $4.6m (£2.9m) to date.
Also for Disney, November Man was released in 12 sites for an $8,000 (£5,000) UK debut.
ICON FILM DISTRIBUTION
Say When opened with a somewhat soft $148,000 (£93,152) from its 122 sites through Icon Film Distribution. However, that does mark director Lynn Shelton's best-ever UK bow, topping the $129,000 (£81,098) opening of My Sister's Sister albeit taken from just 40 sites.
Also for Icon, The Babadook unsurprisingly fell over 50% following Halloween with a $136,000 (£85,581) third weekend for $1.9m (£1.2m) to date.
LIONSGATE
With a hefty drop in its second weekend, Lionsgate's Horns took $73,000 (£46,138) for $949,000 (£596,874) so far. It will end its run as director Alexandre Aja's lowest English language outing in the UK.
Also for Lionsgate, Love, Rosie and What We Did on Our Holiday have grossed $1.8m (£1.2m) and $6.2m (£3.9m), respectively.
ARTIFICIAL EYE
Released in 15 sites through Artificial Eye, Russia's Foreign Language submission Leviathan recorded a $48,000 (£29,985) debut. That marks director Andrey Zvyagintsev's second-best opening in the UK, behind The Return's $69,000 (£43,388) from 17 sites.
Also for Artificial Eye, CITIZENFOUR added $11,000 (£6,671) for $126,000 (£79,065) after two weeks in play.
DOGWOOF
Ryan White & Ben Cotner's The Case Against 8, about the overturning of California's Proposition 8, posted a $3,400 (£2,161) UK bow from its one site through Dogwoof.
SODA PICTURES
Playing on select shows throughout the weekend, Soda Pictures' Venice 2013 winner Sacro Gra grossed $3,200 (£2,037) from its four sites.
UPCOMING RELEASES
This week sees saturation releases for eOne's Nativity 3: Dude, Where's My Donkey?! and StudioCanal's LFF opener The Imitation Game.
Fox's The Drop receives a wide release, while Sony's Third Person and Dogwoof's Life Itself are among the films receiving a limited release.