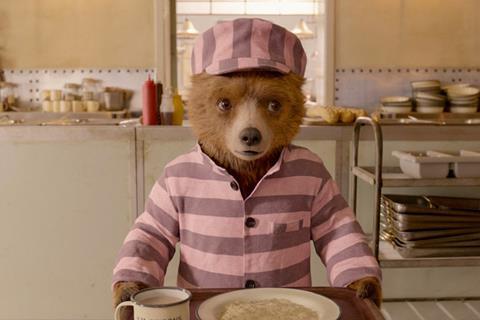 Figures published today by the BFI's Research and Statistics Unit reveal a number of records for the UK film industry in 2017.
The spend on film production in the UK in 2017 reached the highest level on record with £1.9 billion, a 12% increase on the previous year.
The year saw a new record for spend on inward investment film and television production with £1.69 billion for film, a 23% increase on the previous year and £684 million for high-end television production, a 27% increase on 2016's level.
2017 saw £1.69 billion being spent by 68 major inward investment films basing themselves in the UK, an increase in the number of films – six – in this category and a 23% increase in spend on 2016's £1.37 billion.
Inward investment films made in the UK during 2017 include Tim Burton's Dumbo, Ron Howard's Solo: A Star Wars Story, Guy Ritchie's Aladdin, David Yates' Fantastic Beasts and Where to Find Them 2, Paul Thomas Anderson's Phantom Thread, Christopher McQuarrie's Mission Impossible 6 and Ridley Scott's All the Money in the World. Eight of these inward investment feature films also filmed in other EU states.
There were 130 domestic UK films made in the UK in 2017, with a total spend of £189.6 million. Those figures are expected to rise considerably once additional data is collected but the 2016 total of £289m domestic spend may be hard to improve on.
Independently produced domestic titles in 2017 include Idris Elba's Yardie, Mike Leigh's Peterloo, Joanna Hogg's The Souvenir, Tinge Krishnan's Been So Long, Peter Strickland's In Fabric, Chiwetel Ejiofor's The Boy who Harnessed the Wind, Mandie Fletcher's Patrick, Tom Harper's Country Music, Josie Rourke's Mary, Queen of Scots and Tom Edmunds' Dead in a Week (Or Your Money Back).
The figures confirm the UK industry's international standing as a key production hub but also highlight the film sector's reliance on foreign spend with indigenous independent production spend only accounting for around 10% of the total.
The number of UK indigenous films produced in the UK has declined every year between 2012-2016 and from a high of 283 in 2012 to 202 in 2016. The 2017 number stands at 130, though that will also increase as more data becomes available.
Budgets
Median budgets for films has been on a downward trend since 2007. Median budget in 2017 was just under £0.8million, staying at a similar level as 2016. The highest median budget was £1.8 million in 2007, but was based on approximately a third of the volume of films.
Conversely, median total budget per minute of content for high end TV has increased since the BFI began recording this in 2013. Median budget was at its highest point of £26,690 in 2017.
There were only 13 UK co-productions that went into production in 2017, between them spending £29.4 million in the UK, down from £45.4 million in 2016.
The overall picture is one of the UK as a very healthy service industry supercharged by inward investment but also of huge polarisation and little indication that the UK independent film industry is seeing significant growth outside of its collaborations with the US.
High-end TV production in 2017
Last year there was a significant growth in high-end television production with 49 inward investment productions generating a spend in the UK of £684 million, 27% higher than during 2016 and a new record in this area of production since statistics have been collected. High-end international TV productions made in the UK last year include Game of Thrones (series 8), Philip K Dick's Electric Dreams, The Dark Crystal: Age of Resistance, Outlander (series 4), Vanity Fair, Peaky Blinders, Howard's End, Rellik, The Minaturist, Kiri, Hard Sun and White Dragon.
However, while spend was up, the number of high-end TV series filmed in the UK fell from 108 to 91. There were 42 domestic titles filmed in 2017, down on the 66 produced last year. 2017 was the first year on record where co-productions and foreign shows filmed in the UK was greater than the number of domestic dramas.
Animation television programme production in 2017
At the time of reporting, 21 television animation programmes were produced in the UK in 2017 with a spend of £54.1 million. Of these, 14 were domestic UK productions. However, there is a significant time lag in collecting animation data and these numbers are almost certain to increase as more information becomes available.
Box office in 2017
UK box office generated 171 million admissions representing a 1% increase on the previous year and a 3.7% increase in the value of ticket sales to total £1.379 billion.
Leading the box office was Star Wars: The Last Jedi, which took over £81 million in under three weeks following its mid-December release, followed by Beauty and the Beast (£72.4 million), Dunkirk (£56.7 million) and Despicable Me 3 (£47.9 million). Rounding out the top five was Paddington 2, an independent, UK/France production which has grossed £41.4 million since its November release.
Four of the year's top performing films at the UK box office (with the exception of Despicable 3) were made in the UK, using the UK's facilities, talent, crew and locations.
Following Paddington 2, the second highest grossing UK independent film of 2017 was T2 Trainspotting (£17.1 million), Baby Driver, a production co-financed with the US (£13.1 million), Victoria and Abdul (£10.1 million) and The Death of Stalin, a UK/France/Belgium co-production (£5.1 million).
The market share of independent UK films at the box office was 9.5%, an increase from 7.4% in 2016, a large part of which has been driven by the success of Paddington 2 and T2 Trainspotting.
Thanks to a string of mega-franchises US films are increasingly dominating local box office markets globally. This is particularly stark in the UK, whose marketshare for local films continues to lag behind those of other major markets. In 2017 France posted a local films market share of 37%, Italy and Germany scored 16% while Japan scored 55%.
Amanda Nevill CBE, CEO of the BFI, commented on the topline figures: "Once again, UK film and high-end TV surpass expectations and records are broken, with a staggering almost £3 billion spent on film and high-end TV production. We have a consistently growing industry, and doing so at speed – up 11% from last year and outstripping most other sectors. Productions such as Star Wars: The Last Jedi, Paddington 2 and Game of Thrones deliver new employment opportunities for everyone UK-wide, with every conceivable skill required, from special effects designers to costumiers, accountants and drivers. What's more it creates the most potent export to showcase the UK and our innate creativity and is a powerful and timely reminder of the UK as a major global player."