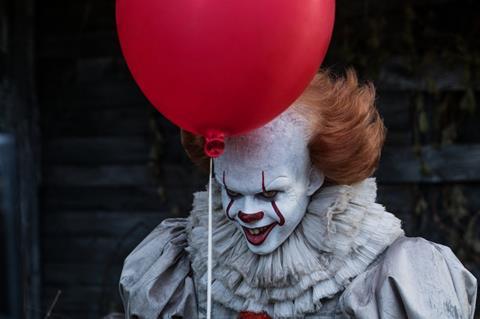 SEPTEMBER 18 UPDATE: New Line's horror smash It held on to number one with ease in its second weekend through Warner Bros as Paramount's mother! floundered in third to give Jennifer Lawrence the lowest wide debut of her career.
It dropped 51.3% to deliver the second biggest weekend for a horror film on an estimated $60m, propelling it to $218.8m. The film overtook Get Out on $175.5m to rank as the second biggest R-rated horror release of all time behind The Exorcist.
The Stephen King adaptation is already the highest grossing film to open in September and studio executives expect it to finish above $300m.
Turning to the new releases, CBS Films' spy thriller American Assassin with Michael Keaton and Taylor Kitsch opened in second place through Lionsgate on $14.8m in 3,154 theatres and arrived with a $33m price tag.
Paramount's art horror film mother! from Darren Aronofsky starring Lawrence and Javier Bardem opened in third place on $7.5m on 2,368. It was a calculated risk to open wide in the hope of sparking wide interest based on the film's star power and polarising impact on critics following the premieres in Venice and Toronto. Studio executives will look to build awareness heading into awards season, although a rare F Cinemascore will not help box office prospects. The film cost $30m to produce excluding P&A costs.
After six sessions, Warner Bros' other active horror release Annabelle: Creation – another from the New Line stable – stands at the cusp on $100m. It dropped three slots to seventh on $99.7m. Early awards season heavyweight Dunkirk completes the studio's triumvirate of top 10 success stories and ranks tenth on $185.5m after nine weekends.
Fathom released the documentary Canelo Vs. GGG: Supremacy at number 15 on $703,396, while Annapurna released Ben Stiller comedy drama and recent Toronto world premiere Brad's Status at number 33 in four venues and delivered $89,921 for a solid $22,480 average.
Zipporah Films opened Frederick Wiseman's documentary Ex Libris: The New York Public Library at number 64 in a single theatre on $10,926. The film premiered in Venice and went on to play Toronto. Music Box released its documentary Manolo: The Boy Who Made Shoes For Lizards at number 74 in three venues on $8,186; Cohen Media Group released Red Trees at number 68 on $10,180 in nine; and FilmRise opened thriller Vengeance: A Love Story at number 83 on $4,526 in nine.
Overall the top 12 amounted to $103.6m, down 33.1% on last weekend and up 27.7% on the comparable session in 2016.
This week's wide releases are: Warner Bros' The LEGO Ninjago Movie; Fox's action sequel Kingsman: The Golden Circle with Taron Egerton, Channing Tatum, Colin Firth, Julianne Moore, and Jeff Bridges; and horror Friend Request through Byron Allen's Entertainment Studios.
Confirmed top 10 North America September 15-17, 2017
Film (Dist) / Conf wkd gross / Conf total to date
1 (1) It (Warner Bros) Warner Bros Pictures International $60.1m $218.8m
2 (-) American Assassin (Lionsgate-CBS Films) Lionsgate International $14.8m –
3 (-) mother! (Paramount) Paramount Pictures International $7.5m –
4 (2) Home Again (Open Road) $5.2m $16.9
5 (3) The Hitman's Bodyguard (Lionsgate-Summit) Lionsgate International $3.6m $70.4m
6 (5) Wind River (TWC) TWC International $2.6m $29.1m
7 (4) Annabelle: Creation (Warner Bros) Warner Bros Pictures International $2.4m $99.7m
8 (6) Leap! (TWC) TWC International $2.2m $18.7m
9 (7) Spider-Man: Homecoming (Sony) Sony Pictures Releasing International $1.9m $330.2m
10 (8) Dunkirk (Warner Bros) Warner Bros Pictures International $1.3m $185.1m