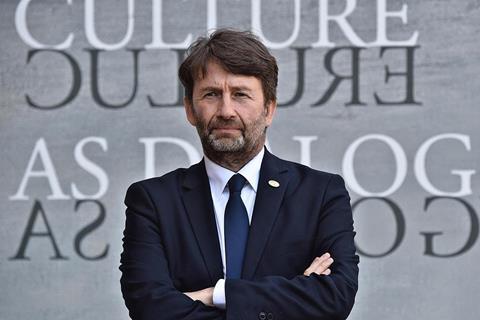 Italy's government is introducing a blanket 90-day theatrical window for all films (Italian and non-Italian) that received state backing, overturning a relaxation of windowing rules brought in during the pandemic.
The government decree, which has already been signed by Italian culture minister Dario Franceschini, will come into effect as soon as it is published in the official Italian legislation gazette, or Gazzetta Ufficiale. No date is currently available for its publication, but industry insiders say this won't happen before the end of April at the earliest.
The Italian government introduced emergency measures during the Covid-19 pandemic that meant films that had qualified for tax credits and public funding could skip theatre releases and go directly to streaming platforms without losing public financing support, as would have been the case previously. Theatres were closed for large stretches of the pandemic in Italy, which also would have made it impossible for the previous regulations to be applied.
These rules were updated in May 2021, with qualifying Italian titles subject to a 30-day window. Foreign titles that did not receive government support can go straight to streaming platforms without a theatrical release.
Foreign titles (for example studio blockbusters or small independent productions) that have not benefitted from Italian public financing or local tax credits will not be affected by the new 90-day window regulation.
However, Franceschini recently indicated that ultimately the government was looking to find ways of regulating all foreign films, not just ones that have received financial support from Italy.
Exhibitors are not happy with the new ruling. "It's a far cry from the support exhibitors receive in some other European nations like France, where the window to release is a minimum of 12 months," said Manuele Ilari, who heads Ueci, the association of Italian cinema theatres.
Ilari went on to call the decision "a grave error" and a "step backwards," adding that during the pandemic some 500 theatres closed for good in Italy and that without substantial exhibitor support more risked closing down, putting at risk 100,000 jobs in the sector. He added his association was grouping with other industry associations to call for the window to be further lengthened.
The government is also bolstering support of productions through an increase in offered tax credits to 40% of total production costs, from the previous 30% last year.