OCTOBER 24 UPDATE: Sony's Inferno will soon cross the $100m mark at the overseas box office.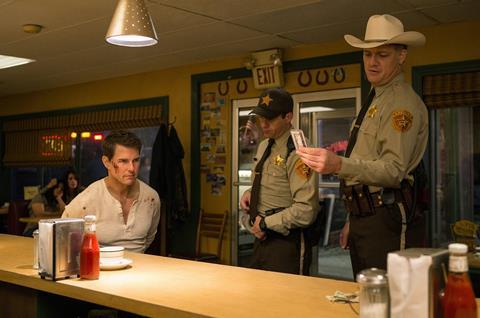 PARAMOUNT PICTURES INTERNATIONAL
UPDATE: Jack Reacher: Never Go Back shot to $31.5m on its overseas debut, topping the chart in 20 markets, for a global bow of $59.1m.
Paramount Pictures and Skydance Productions' action sequel landed the top spot in the likes of Russia ($2m), Taiwan ($1.6m), Indonesia ($1.9m) and the UAE ($1.3m), while it bested the opening of Jack Reacher in the UK with $3.3m.
Other debuts included a $5.6m bow in China, $2.8m in France (23% below Jack Reacher) and $2m in Australia (11% below Jack Reacher). However, the latter two did see the original film open in a holiday period.
From 902 IMAX screens in 45 markets worldwide, Never Go Back grossed $5.1m with $2.5m coming from 376 screens in North America and $1m from 327 screens in China.
Its next major openings come in Germany (November 10), Japan (November 11) and Spain (November 11).
SONY PICTURES RELEASING INTERNATIONAL
Inferno will soon cross the $100m mark at the overseas box office as a $28.9m weekend from its 58 markets lifted it to $94.8m.
The latest Dan Brown adaptation opened with a preview-boosted $3.5m in South Korea and retained the top spot in the likes of Germany ($2.9m for $8.2m), Italy ($2.8m for $9.3m) and Brazil ($1.9m for $6.6m).
It journeys into China and Japan next weekend.
The Magnificent Seven, Sausage Party and Don't Breathe stand at $66.5m, $37.8m and $61.3m, respectively.
FOX INTERNATIONAL
UPDATE: Taking top spot in nine markets, Trolls sung to $17.4m from its 14 markets for an early $20.5m.
The UK led the way with a preview-boosted $6.9m bow, followed by France on $4.4m and Germany with $1.9m. In Denmark, it has already overtaken Despicable Me's lifetime total at $2.2m.
Miss Peregrine's Home For Peculiar Children grossed an additional $14m from its 75 markets for $150.5m to date.
It fell only 3% in France to take $3.2m for a local tally of $12.9m and posted a $1.2m third weekend in Germany for $7.1m, while it has become Tim Burton's biggest film of all time in South Korea with $19.3m.
Making its overseas bow in 22 markets, Keeping Up With The Joneses uncovered $2.5m, with Australia providing the best opening at $847k to chart third. Its next major release comes in China on November 8.
SHOWBOX
Retaining the top spot in South Korea was Luck-Key with an estimated $11.9m second weekend for $31.3m to date, according to ComScore.
CHINESE TITLES
Crime drama Heartfall Arises grossed an estimated $11.76m from its three territories on its overseas debut, according to ComScore.
Dante Lam's hit Operation Mekong added $8.1m from its seven territories for $157.6m to date.
UNIVERSAL PICTURES INTERNATIONAL
UPDATE: Universal Pictures, Miramax and StudioCanal's presentation of Working Title's Bridget Jones's Baby delivered another $10.5m from its 59 territories for $156.2m.
In Studiocanal territories, the threequel opened behind Inferno in Germany with a $3.4m debut and held well in France with a $2m third weekend for $9.4m to date. Universal's release of the film in the UK provided $1.3m for $56.8m after six weeks.
There are four more territories to open: Colombia (October 27), Japan (October 29), Argentina (November 3) and Paraguay (November 17).
Creeping into 22 overseas territories day-and-date with North America, Ouija: Origin Of Evil scared up a $7.7m international debut.
Blumhouse Productions, Platinum Dunes and Hasbro's prequel scored number one openings in five Latin America territories, including a $2.2m bow in Mexico, and debuted with $944k in the UK from 401 sites.
It opens in Italy, Poland, Spain, Ecuador, Ukraine and the UAE, among others, next weekend.
Illumination Entertainment and Universal's The Secret Life Of Pets hopped to a further $4.1m from its 44 territories for $498.1m overseas and a global haul of $864.3m. It added $1.8m in Italy for $12.1m after 18 days in play.
In Spain, Focus Features' A Monster Calls retained the top spot for the third straight week with $2.9m for $17m to date. It is already the fourth highest-grossing film of the year.
Laika's Kubo And The Two Strings and American Honey stand at $19m and an early $677k, respectively.
WARNER BROS PICTURES INTERNATIONAL
UPDATE: Led by a $1.1m second weekend in France for $2.3m, Storks flew to $7.8m from its 60 territories for $84.2m so far.
The original animation added $813k in the UK for $4.3m, $742k in Spain for $5.4m and opened with $720k in Italy from 381 sites. It arrives in Germany next weekend and Japan on November 3.
The Accountant accumulated $5.6m from its 20 markets for an early $10.3m.
Among its new openings, the thriller bowed to a preview-boosted $1m in Germany from 351 sites and to $1m in Brazil to chart second. It fell only 22% in Taiwan with a $594k second weekend for $1.9m to date.
It opens in Italy and Russia next weekend, followed by France, Australia, Mexico and the UK the following week.
GAUMONT
Leading the way in France was Brice 3 with an estimated $6.05m debut, according to ComScore.
MISTER SMITH ENTERTAINMENT
From its 32 Mister Smith territories, The Girl On The Train amassed an estimated $6m for $42.5m, with the adaptation opening second in Spain behind local hit A Monster Calls.
Including Universal territories, it has grossed $45.1m.
WALT DISNEY STUDIOS MOTION PICTURES INTERNATIONAL
Pixar's Finding Dory swum to $4m from its 14 territories for $532.2m to date overseas and $1.02bn worldwide. It fell only 28% in Germany to continue its strong run and reach $29.4m after 25 days in play.
LIONSGATE
Deepwater Horizon drilled up a further $2.3m from its 74 markets for $40.3m to date overseas and $95.3m worldwide.
STX ENTERTAINMENT
Currently playing in 61 markets, Bad Moms partied to an estimated $1.3m for $68.2m to date. In Germany, it enjoyed a $685k fifth weekend for $10.3m so far.