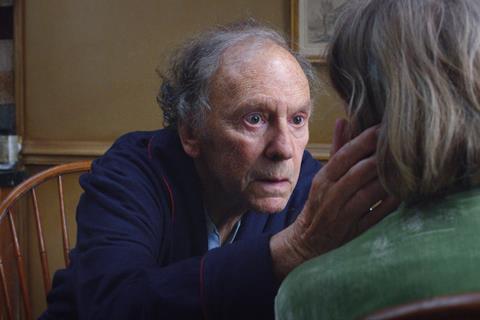 Jean-Louis Trintignant, a leading light of the French New Wave who broke out in Claude Lelouch's A Man And A Woman and later in life starred in Michael Haneke's Amour, has died. He was 91.
According to Agence France-Presse Trintignant died on Friday (June 17) at his home in the southern region of Gard. His wife Marianne Hoepfner was with him.
Trintignant was born on December 11 1930 in the southern Vaucluse region to businessman Raoul and Claire. As a shy man in his 20s – his personality would inform a personal aversion to the limelight – he went to Paris to study acting and landed stage roles in the 1950s.
He broke out as film actor playing a racing driver in A Man And A Woman (1966) opposite Anouk Aimée. Trintignant's compelling performance was due not solely to his natural acting gifts but a genuine passion for a sport which both his uncles had pursued. One died in a crash, the other won Le Mans in 1954.
In 1969 Trintignant won the Cannes best actor prize for Costa-Gavras's political thriller Z and went on to appear in celebrated works like And God Created Woman, The Conformist and Three Colours Red.
It was while filming And God Created Woman that Trintignant embarked on an affair with Brigitte Bardot, who was married to the film's director Roget Vadim. That thrust Trintignant into the spotlight he was always keen to avoid, however public curiosity was dampened when he undertook three years military service in Algeria for a few years, returning to star for Vadim in 1959's Les Liaisons Dangereuses.
Trintignant starred as an assassin for Bernardo Bertolucci in 1970 pre-war thriller The Conformist and turned down the director when offered the lead in Last Tango In Paris because he did not want to appear naked on screen. The role eventually went to Marlon Brando who earned an Oscar nod for his troubles.
In later life the French great played one half of an ageing couple in Haneke's 2012 best foreign-language film Oscar winner Amour opposite Emmanuelle Riva, who earned an Academy Award nomination for the role. He starred for Haneke again in 2017's Happy End, and reunited with Lelouch in 2019's The Best Years Of A Life which took him to Cannes for one of his last public appearances.
Trintignant was marred three times: to Stephane Audran (1954-56), Nadine Trintignant (1960-76), and lastly to Hoepfner in 2000. His daughter Pauline died in infancy in 1969 while another daughter, actor Marie Trintignant, was murdered by her partner Bertrant Cantat in 2003.
Trintignant is survived by Hoepfner and Vincent, his son from his second marriage.