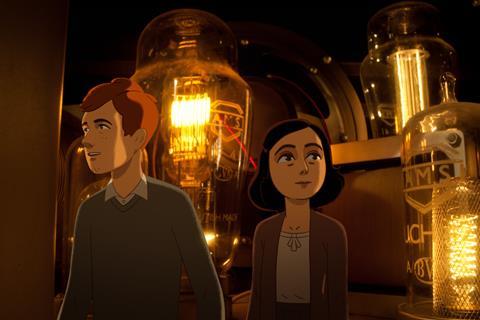 Ari Folman's animated title Where Is Anne Frank will open the 38th Jerusalem Film Festival (August 24-September 4), which has also selected 13 feature films for its two Israeli Film Competitions.
Where Is Anne Frank premiered as an out of competition title at Cannes last month. It follows the imaginary friend to whom Second World War diarist Anne Frank dedicated her writing, as she embarks on a journey across Europe to find Anne, who she believes is still alive.
Wild Bunch holds worldwide sales rights on the title; it will play at an in-person event to 5,000 spectators in the Sultans Pool Amphitheatre on August 24. Altitude acquired UK-Ireland rights on the film back in 2018.
The Israeli feature titles are split between two sections: the Haggiag Competition for fiction titles, and the Diamond Competition for documentary films.
Titles in the former include the world premiere of Orit Fokus Rotem's Cinema Sabaya, about nine women who take part in a young filmmaker's video workshop, which forces them to challenge their respective beliefs. Memento Films International has sales rights on the film.
In the documentary strand, films include the world premiere of Nurit Kedar's #Schoolyard: An Untold Story – an anatomy of an Israeli paratroop company's guarding of hundreds of Lebanese prisoners of war during the 1982 Israeli invasion of Lebanon. Cat&Docs is selling the film.
Across the two feature sections, the festival will award NIS 1m ($310,749) in prizes.
The full festival line-up will be announced on Sunday, August 8.
Jerusalem Film Festival Israeli Competitions
Haggiag Competition for fiction films
All Eyes Off Me, dir. Hadas Ben-Arova
Cinema Sabaya, dir. Orit Fokus Rotem
More Than I Deserve, dir. Pini Tavger
Shake Your Cares Away, dir. Tom Shoval
Take The 'A' Train, dirs.. Yair Asher, Itamar Lapid
The Swimmer, dir. Adam Kalderon
Diamond Competition for documentary films
#Schoolyard: An Untold Story, dir. Nurit Kedar
Black Notebooks, dir. Shlomi Elkabetz
I Said I, dir. Julie Shles
Not A Word Of Truth, dir. Noa Aharoni
Razzouk Tattoo, dir. Orit Ofir Roneli
Speer Goes To Hollywood, dir. Vanessa Lapa
The Last Chapter Of A.B. Yehoshua, dir. Yair Qedar