Film is considered one of the most important in Israel's cinematic history.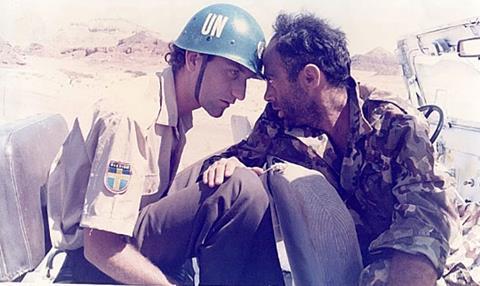 Following last year's festival screening of Uri Zohar's restored Three Days And A Child, Jerusalem Cinematheque and Tel Aviv-based technical facility Realworks Studios have collaborated on Israeli war classic Avanti Popolo (1986), from late director Rafi Bukai.
Marking 30 years since the film's original release, the digital restoration will be screened for the first time at the Jerusalem Film Festival on July 12, with cast and crew in attendance including the film's lead actor Salim Dau and Bukai's widow Mayan.
The dark comedy follows two Egyptian soldiers stranded in the Sinai desert after the Six-Day War — now caught inside the new borders of Israel — who are desperate to return home.
Originally Bukai's graduate film from Tel Aviv University, the feature version went on to be widely acclaimed, and is still studied in the country's film schools.
"It is a very politically engaged, left-wing film," says Realworks' Vanessa Lapa. "It's probably the first Israeli film to show the world through the eyes of the other side," adds festival director Noa Regev.
The restoration was initially discussed at last year's festival, with the actual process beginning in March this year.
The Cinematheque had tracked down a 16mm negative print in London five years ago, but its poor condition led to a lengthy and arduous restoration process.
The initial scan was done at Cinelab in Romania — because of quality and affordability — and Realworks also used image-processing software from UK outfit The Pixel Farm.
The company's next project is Philippe Mora's documentary Swastika, which provoked controversy at Cannes in 1973.