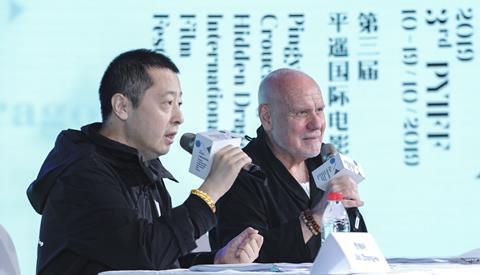 Acclaimed Chinese filmmaker Jia Zhangke has returned to the Pingyao International Film Festival (PYIFF), following his surprise departure last year from the festival he co-founded.
At a press conference in the Chinese city of Taijuan today (June 1), Jia was present to announce a series of changes for the fifth edition of the festival, which will take place from October 12-19 in the ancient city of Pingyao in China's Shanxi province.
PYIFF will now be co-organised by Shanxi Film Academy of Shanxi Communication University, which will see resources allocated to the festival by the provincial government.
The festival has also restructured its management and programming team. PYIFF co-founder and former Venice Film Festival director Marco Muller has stepped down as artistic director and will become chief consultant, taking responsibility for the selection of foreign-language films.
The artistic director role will be taken up by Lin Xudong, a film editor on Jia's features 24 City, A Touch Of Sin and Ash Is Purest White – all of which premiered in competition at the Cannes Film Festival.
The rest of the programming team comprises Marie-Pierre Duhamel, Wu Jueren, Jeremy Chua, Alena Sumakova, Deepti Dcunha, Tomita Mikiko, Sandra Hebron and Diego Lerer, who will all continue selecting films for PYIFF from around the world.
It marks a return to the festival by Jia, who made a surprise announcement during the closing day of last year's edition that he was departing.
Co-founded with Muller, PYIFF was launched to boost collaboration between Chinese and non-Western filmmakers as well as encourage greater communication between Western and non-Western productions. Known as "China's Sundance", it has focused on new works from young directors and gives special attention to features from China, Asia, Eastern Europe, Latin America and Africa.
The structure of the festival will remain the same, with five sections led by Crouching Tigers, focusing on the first, second or third films by international directors. The other sections include Hidden Dragons, centred on Chinese-language films by directors with their first, second or third works; Galas, presenting acclaimed titles from major film festivals; a Retrospective strand; and Made-in-Shanxi, highlighting local or productions related to the province.
Jia said of the new co-organizers and support: "This is a powerful motivation for us to continue and to well run the festival.
"As an emerging film festival, PYIFF has accumulated a certain experience over the past four editions. Meanwhile, it has formed its festival style and characteristics. The festival, which is about to come to its fifth year, has ushered in important strategic opportunities that cry for reform and innovation."
Supporting the local production industry, the festival will issue cash prizes to "outstanding feature films" in the Made-in-Shanxi sections; and cash rewards and development opportunities for Shanxi projects in its work-in-progress lab and Pingyao Project Promotion sections.
Speaking of the role at the coming festival, Jia said on social media platform Weibo: "I once said that my biggest regret during the festival was that I was not able to watch a film in the cinema. So this year, I hope to be the Chief Experience Officer, to join the audience watching films and meeting filmmakers in the cinema."