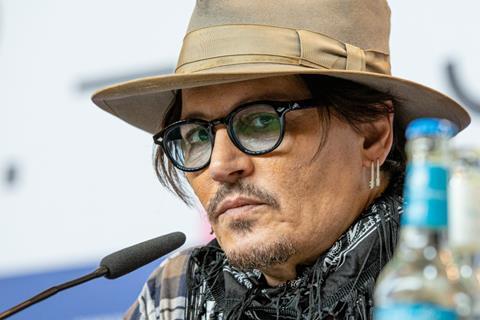 International attendees at the Karlovy Vary Film Festival are split in their opinion on the festival's decision to host a tribute to Johnny Depp today and tomorrow at the Czech event.
Depp will meet fans on the red carpet this afternoon at the main Hotel Thermal venue, before presenting a screening of Julien Temple's documentary Crock Of Gold: A Few Rounds With Shane MacGowan, which the actor also produced.
Tomorrow he will present Andrew Levitas' Minamata, which he produced and in which he also stars.
The honoring of Depp here and at San Sebastian next month (he is also participating in an-converrsation event at the Deaville Film Festival) has attracted criticism from domestic abuse charities, following much-publicised allegations of domestic abuse against the actor from his ex-wife Amber Heard, which the British High Court found to be 'substantially true' in 12 of 14 cases. Depp denies all the allegations.
"I really support the criticism – I'm not a big fan of celebrating domestic violence," said Lithuanian producer Maria Razgute, attending the festival with Andrius Blazevicius' Runner, which she produced and which had its premiere in the East of the West Competition this week. "If I need to choose a side, I would choose the side which says [the tribute] is not a nice thing to do."
Razgute emphasized she did not believe the festival wished to celebrate domestic violence – "they love him as an actor, and he's a great actor."
However, she noted that "when you decide to honour someone, it's already something different. I would not punish him as an actor; but when honouring someone at a festival, you have to be very cautious who you choose. [The honoree]'s track record, even their domestic one, has to be really clean."
Miroslav Mogorovich, producer of Stefan Arsenijevic's Competition entry As Far As I Can Walk, said it is not for festivals or the public to adjudicate on private matters. "It's not something that he's running away from, he's not a fugitive," said Mogorovich. "If there is something he did wrong, he did wrong. But it's not on us to find out."
Mogorovich also questioned whether concern about the tribute to Depp is genuine. "Is it a real protest or is it just in the media?" he said. "There is this circus in the film industry; I saw a Mel Gibson short video promoting the festival [high profile guests Karlovy Vary often provide short comic videos promoting the event]; in a couple of years, somebody would ask, is that problematic?"
The tribute to Depp is "not about promoting his personal life, it's promoting his artistic life," said Arsenijevic, who acknowledged it is "a complicated situation" but felt it is "irresponsible" for individuals to weigh in on what he saw as "a court issue".
"For me, I have no problems with [the Depp tribute]," he added. "If he was convicted, he would not be here."
He raised the issue of how criticism of Depp affects those who have worked on his recent films, highlighting Levitas' letter to MGM last month condemning the studio for allegedly burying the release of Minamata.
A feature director with a film in the festival who wished to remain anonymous said that while they are totally against domestic abuse, they thought Depp should be at the festival as he "always seemed like a very nice person" and that they "really would like to meet him."
Questionable timing
Several of those to whom Screen spoke suggested the timing of the tribute to Depp, and subsequent festival awards, is ill-judged.
"I feel frustrated; there are a lot of people outside there that could also be invited [to the festival]," said Christos Nikou, the Greek director of Apples, which played this week in Karlovy Vary's Horizons strand. "I can give you a list with one million people [who could be honoured instead] – and some more women for sure."
"I can't talk about him, because I don't know anything about him, and I don't know if [the allegations] are true or not," Nikos continued. "He's a great actor, and so give him an award for his acting. Is it the right time? That's the big question. I'm frustrated that they're doing this in a time when they don't have to create these questions. They could do it in two years when a court has decided [about Depp]."
Earlier this week festival director Karel Och defended the choice to programme a tribute to Depp, saying he deserves the same "presumption of innocence" as anyone, and that "he comes as a filmmaker, to support his work."
However the tribute has ramifications beyond purely artistic ones, suggested Razgute. "It's a statement," she said. "You can't say [after it has been announced] 'we didn't mean that' – you have to think about it in advance. It looks like a statement, even though maybe they didn't mean it."
Razgute is part of the Women in Film and TV association in Lithuania, and sits on the management board of the Independent Producers Association of Lithuania. She revealed the latter had discussed the topic of tributes to Depp. "We had the same position: he's a great actor, but if you want to honour, you should honour someone else in this situation."
Swedish director Ninja Thyberg, whose debut feature Pleasure had its latest festival screening at Karlovy Vary, refrained from commenting directly on Depp, but said conversations around domestic abuse should be structural where possible. "As long as we keep looking for monsters and put the blame elsewhere, we're not going to solve anything," said Thyberg. "Just trying to put it in the shadow is just going to make it worse; we have to admit that this is something we are all part of, and we have to see these things within ourselves, and in the ones we love, and in the behaviour, culture we are in. That's the only way to deal with it."
After Karlovy Vary, Depp will attend the American Film Festival in Deauville on September 4; before receiving the honorary Donostia award at San Sebastian Film Festival on September 22.
The latter event has also programmed a workshop addressing gender equality, where Depp's honoring at the event will be discussed.