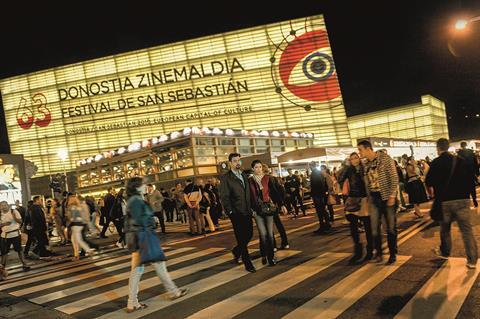 The San Sebastian Festival and (H)emen, the Basque association of professional women in audiovisual media and the performing arts, are organising a workshop to take place at the festival's 69th edition (September 17-25), with the aim of exploring issues surrounding gender equality.
A statement from the festival said: "The aim will be to reflect, discuss and endeavour to reach agreements on questions related to gender equality.
"The debate will cover a variety of interrelated aspects, including, among others: the inclusion of professional women in the world of cinema and, particularly, in film festivals, by means of screening their films in the different sections and their participation in debate forums; the codes of ethics at festivals, particularly in the face of accusations of crimes committed against women; and recognition and equality with respect to the different sexual and gender identities."
It comes after the festival has been hit with criticism for the decision to honour actor-producer Johnny Depp with the Donostia Award at this year's event, in the wake of Depp losing his libel case against UK tabloid The Sun after it described him as a "wife-beater" in a 2018 article relating to his relationship with his ex-wife, Amber Heard.
"In view of the controversy surrounding the Donostia Award going to Johnny Depp, the Festival and (H)emen wish to expand upon and more deeply discuss the subject with the participation of the collectives critical towards the award," the statement continued. French actor Marion Cotillard will also receive a Donostia Award at this year's festival.
The workshop will be part of the activities encompassed by Thought and Discussion, an area created last year by the festival. As well as this workshop, a permanent discussion table on effective equality will be created with the festival, with quarterly meetings held to address the subjects of this year's first festival reflection workshop.
"A division was occurring between people and collectives who, in my opinion, share common objectives," said festival director José Luis Rebordinos. "The aim of this workshop is to discuss the subject calmly and with time, endeavouring to reach commitments and establish a calendar for measuring their effects."
"We firmly believe that feminist thought and discussion can contribute new horizons and places of consensus with a view to creating a Festival which is more egalitarian and diverse. A safe place for the women of cinema, a place that better represents society," added Lara Izagirre, president of the (H)emen association.
The Perlak section
Additionally, two new titles have been added to the Perlak section at this year's festival. The French Dispatch, Wes Anderson's latest film, presented at Cannes, and Jane Campion's The Power Of The Dog, which is to have its premiere at Venice, will compete for the City of Donostia / San Sebastian audience award.