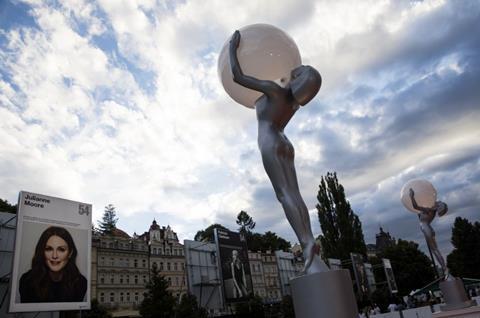 The Karlovy Vary International Film Festival (KVIFF) is to screen 16 films at 96 cinemas across the Czech Republic as an alternative to its annual event, which was cancelled due to the Covid-19 pandemic.
The selection, titled KVIFF at Your Cinema, comprises features that have debuted at festivals since last autumn and include the European premieres of three titles: Zeina Durra's Luxor, Fernanda Valadez's Identifying Features, and Maite Alberdi's The Mole Agent.
The films will screen from July 3-11, the original dates of the festival. Each of the selected films will only have one screening, which will take place at all participating theatres at the same time across 80 towns throughout the Czech Republic. Cinemas in the country reopened on May 11, with gatherings limited to 100 people.
In a bid to bring some of the spirit of the festival to the screenings, films will be accompanied by introductions by the KVIFF programmers, who selected the line-up.
KVIFF president Jiří Bartoška said: "Since, given the situation, moviegoers can't come to Karlovy Vary this year, we decided to bring at least part of the festival to them. It's our way of thanking the visitors, guests, and film enthusiasts who create the fantastic festival atmosphere in Vary every year.
"We are thrilled by our viewers' immense interest, and it's also huge that nearly 100 theatres have signed on for KVIFF at Your Cinema. I believe that together we will succeed in offering audiences not only great films but even a bit of the traditional festival atmosphere."
The films are:
À l'abordage (Fr)
Dir: Guillaume Brac
Babyteeth (Aus)
Dir: Shannon Murphy
Bad Tales (It-Switz)
Dirs: Fabio D'Innocenzo, Damiano D'Innocenzo (It-Switz)
Ema (Chile)
Dir Pablo Larraín (Chile)
Honey Boy (US)
Dir: Alma Har'el
Identifying Features (Mex-Sp)
Dir: Fernanda Valadez
Kubrick By Kubrick (Fr-Pol)
Dir: Gregory Monro
Luxor (Egypt-UK)
Dir: Zeina Durra
Meky (Cze-Slov)
Dir: Šimon Šafránek
Moffie (S Afr-UK)
Dir: Oliver Hermanus
Mogul Mowgli (UK)
Dir: Bassam Tariq
The Mole Agent (Chil-US-Ger-Neth-Sp)
Dir: Maite Alberdi
Proxima (Fr-Ger)
Dir: Alice Winocour
Wildland (Den)
Dir: Jeanette Nordahl (Den)
Yalda, A Night For Forgiveness (Fr-Ger-Swit-Lux-Leb-Iran)
Dir: Massoud Bakhshi
Zumiriki (Sp)
Dir: Oskar Alegria (Spa)
The cancellation of KVIFF, announced at the end of April, means the annual festival in the Czech spa town will not run for the first time since 1993. Last year, the event hosted nearly 500 screenings and drew more than 12,500 visitors.
The 55th KVIFF will now run July 2-10, 2021.