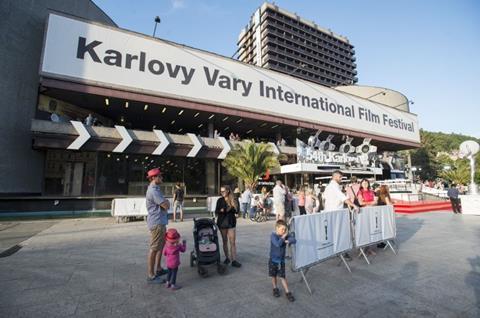 The Karlovy Vary International Film Festival (KVIFF) has revealed plans to host a pared-down physical festival in 2020 after being forced to cancel its annual event due to the Covid-19 pandemic.
KVIFF 54 ½ is set to be hosted in the Czech Republic spa town from November 18-21 and will include 30 films, which will each be screened twice. The four-day non-competitive festival will also include other events to accompany the screenings.
The festival, which has not missed an edition since 1993, usually runs over nine days from the end of June. Last year, the event hosted nearly 500 screenings and drew more than 12,500 visitors.
After cancelling its 55th edition, due to the coronavirus outbreak, organisers announced an alternative event – KVIFF At Your Cinema – featuring 16 films selected by the festival's programming team. Launching today, it will run from July 3-11 and screen films across 96 Czech cinemas.
The screenings will include streamed introductions, live broadcast Q&As, and in-person delegations of the KVIFF team at more than 40 locations.
KVIFF president Jiří Bartoška said: "KVIFF at Your Cinema was our immediate response to the situation, one that allowed us to offer our viewers interesting movies that we'd chosen for the festival.
"But we still feel that the key to the Karlovy Vary fest is its atmosphere, where encounters readily happen and where together we can enjoy a shared movie experience: feelings of joy, fear, and being deeply touched. We believe that the time is soon coming when we can be together again."
KVIFF's Eastern Promises industry showcase will take place online from July 8.
Cinemas in the Czech Republic reopened on May 11 and can now host up to 500 people, while rules around social distancing and face masks have been removed.