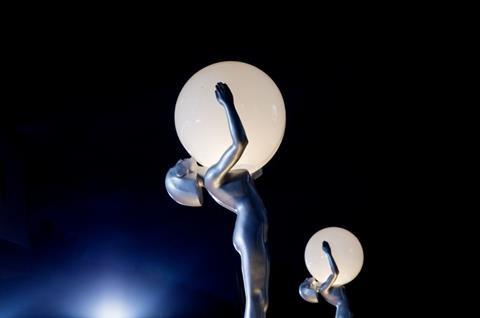 Karlovy Vary International Film Festival (KVIFF) has unveiled the projects that will be showcased during its Eastern Promises industry strand, which is taking place online for the first time due to the Covid-19 pandemic.
Some 41 film projects will be presented across industry strands: Works in Progress; First Cut+ Works in Progress; Docs in Progress; Works in Development - Feature Launch; and Eurimages Lab Project Award.
Projects will be presented to industry across three days, from July 8, with the most promising titles receiving awards worth a total of €165,000 ($147,000).
KVIFF announced in April that its industry showcase would move online, due to lockdown measures and ongoing travel restrictions as a result of the coronavirus outbreak.
A total of eight projects – all in post-production – have been selected for  the Works in Progress section and include:
Absence (Iran-Cze-Slov) Dir: Ali Mosaffa
The Alleys (Jor-Qua-Fr-Saudi) Dir: Bassel Ghandour
Black Medusa (Tun-Lux) Dir/Pro: ismaël
Field (Geo) Dir: Lasha Tskvitinidze
Snow White Dies At The End (N Mac) Dir: Kristijan Risteski
Stop-Zemlia (Ukr) Dir: Kataryna Gornostai
Troubled Minds (Lat-Nor) Dirs: Raitis Ābele, Lauris Ābele
Wiarołom (Pol) Dir: Piotr Złotorowicz
A further eight projects will be introduced as part of the First Cut+ programme, showcasing projects that previously participated in First Cut Lab. They include:
Broad Peak (Pol-It) Dir: Leszek Dawid
Deskmate (Turk-Rom) Dir: Ferit Karahan
I Am FINE, Thanks (Lith) Dir: Ernestas Jankauskas
Immaculate (Rom) Dir: Monica Stan, George Chiper Lillemark
January (Bul-Port-Lux) Dir: Andrey Paounov
The Runner (Lith-Cze) Dir: Andrius Blaževičius
The Users (Serb-Slov-Neth-BH) Dir: Ivan Ikić
Wild Roots (Hun-Slov) Dir: Hajni Kis
Eight projects were selected for Docs in Progress, introducing documentary films that are in late production or in post-production. They are:
Every Single Minute (Cze-Slov) Dir: Erika Hníková
Intensive Life Unit (Cze) Dir: Adéla Komrzý
Homes (Lat) Dir/Pro: Laila Pakalniņa
The Lines (Slov) Dir: Barbora Sliepková
Roma And The Camel Man (Geo) Dir: Irakli Metreveli
Until The Wedding (Pol) Dir: Daniel Stopa
Indoor – Tehran (Iran) Dir: Azadi Moghadam
The Pawnshop (Pol) Dir: Łukasz Kowalski
Works in Development - Feature Launch comprises nine projects seeking co-production partners. They include:
Crissea IV (Rom) Dir: Vladimir Dembinski
The Fragile Beauty Of Masculinity (Cze-Slov) Dir: Andrea Culková
Kyuka - Journeying To The Moon Through The Endless Sea (Gre) Dir: Kostis Charamountanis
Neither Voice (Slov) Dir: Ester Ivakič
The Sanctuary (Bul) Dir: Katerina Borisova
Sara's Bungalow (Pol) Dir: Julia Rogowska
Usud (Serb) Dir: Stefan Malešević
Vacuum (Ukr) Dir: Yelizaveta Smith
Two Times One (Bul) Dir: Vladimir Petev
Eurimages Lab Project Award will showcase eight projects in production or post-production that ventures beyond traditional filmmaking. They include:
Atlantide (It-Fra) Dir: Yuri Ancarani
Bula (Bel-Bra) Dir, Producer: Boris Baum
Burial (Lith-Nor) Dir: Emilija Skarnulyte
Five Dreamers And A Horse (Arm-Ger) Dir: Vahagn Khachatryan, Aren Malakyan
Hello My Friend (Ger-Cuba) Dir: Bettina Blümner
Roots (Serb-Cro) Dir: Tea Lukač
Stepne (Ukr-Ger-Pol) Dir, Producer: Maryna Vroda
Utopia (Ukr-Aus-Neth) Dir: Juri Rechinsky