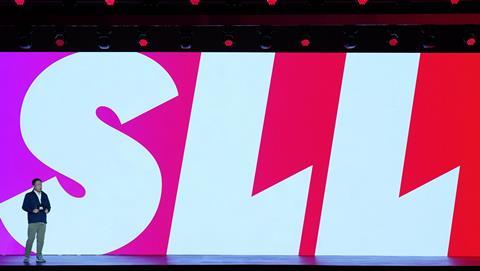 Major South Korean drama production studio SLL – formerly known as JTBC Studios – is set to invest $2.4bn (KW3 trillion) in TV and film production over the next three years.
At a press conference in Seoul yesterday (April 19), CEO Jung Kyung Moon said he aims to rival BBC Studios as a leading production entity by the end of 2024.
Expanding SLL's business in the US and Asia, he aims for the company to generate revenues of about $1.6bn - of which 40% would come from overseas - in that year with 50-60 titles.
"Recently, we changed our name to SLL - or Studio LuluLala - from JTBC Studios," he said of the production arm formerly named after its parent, major Korean cable TV network JTBC. "The change reflects our determination to become a leading production studio in the global entertainment industry."
Last year, the company acquired US studio Wiip, the producer of HBO hit Mare of Easttown and Apple TV+'s breakout comedy Dickenson.
SLL's 14 other subsidiary studios include Climax Studio, producer of Netflix hits Hellbound and DP; All Of Us Are Dead producer Film Monster; Itaewon Class producer Zium Content; and Anthology Studio, which is producing Kim Jee-woon's upcoming film Cobweb, starring Song Kang-ho.
The company plans to open firms in Japan and Singapore to target Japanese and Southeast Asian audiences with Korean and local-language content. It is also planning to open a US outfit to expand its partnerships in North America, and is starting to explore NFTs and metaverse business.
This year, the company has 35 TV and film titles on its slate, up from 26 titles in 2021, including Yeon Sang-ho's Netflix sci-fi feature Jung_E, Jang Kunjae's supernatural Tving series Monstrous, Yoon Jong-bin's Netflix series The Accidental Narco and crime film The Roundup, starring Ma Dong-seok, aka Don Lee.