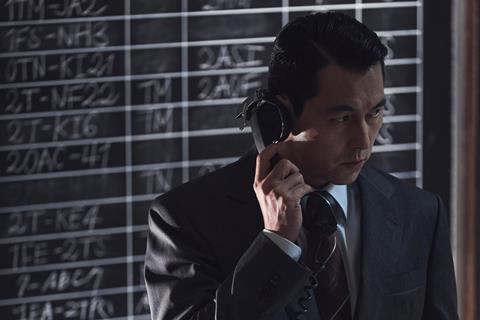 South Korea's Megabox Plus M is launching its Cannes sales slate led by Midnight Screenings title Hunt, directed by Squid Game star Lee Jung-jae in his directorial debut.
Having starred in numerous TV and film titles such as Im Sang-soo's The Housemaid, selected for Cannes in 2010, the actor will now be eligible for the festival's Camera d'or with his first feature as a director.
His period espionage action film stars Lee with Jung Woo-sung (The Good, The Bad, The Weird) as two unit chiefs in the Korean Central Intelligence Agency. Tasked with investigating each other's units to uncover a mole embedded in the organization, they end up learning of a North Korean plot to assassinate the South Korean president.
The film also features Jeon Hye-jin (Ashfall), Heo Sung-tae (Squid Game), Go Youn-jung (Sweet Home), Kim Jong-soo (The Spy Gone North) and Jung Man-sik (Escape From Mogadishu).
Eugene Kim, formerly of Showbox, is co-executive producer on the film and handling its marketing, sales and distribution.
Megabox Plus M's recently appointed CEO Jeongin Hong, who joined the company in September from sister affiliate JTBC Studios (now called SLL) is planning to take the company to further global growth with co-productions and M&As. While he was at SLL, the studio acquired Mare Of Easttown producer Wiip and has since announced further plans for global expansion.
The company's Cannes sales slate also includes Samjin Company English Class director Lee Jong-pil's upcoming action drama Escape (working title), which stars Lee Je-hoon (Time To Hunt) and Koo Kyohwan (Peninsula) in a story of North Korean soldiers on the demilitarized zone attempting to defect to the South.
Also, Miss & Mrs. Cops director Dawon Jung's Resonance is a drama starring Jin Sun-kyu (Space Sweepers) and Kim Dong-hee (TV's Itaewon Class) in a story about two singers in the legendary Korean band Spring, Summer, Fall, Winter and their fates involving drugs and cancer.
In addition, the company is selling Asura: The City Of Madness director Kim Sung-soo's upcoming Seoul Spring (working title), starring Hwang Jung-min (The Spy Gone North), Jung Woo-sung - working with him again for the first time since Asura, and Lee Sung-min (The Man Standing Next). The political drama is based on actual events that took place between insurgents and counter-insurgency forces in December 1979 after dictator Park Chung-hee was assassinated and tensions reigned in South Korea.
Other titles include Lee Won-tae's political thriller The Devil's Deal, Kim Seong-je's crime noir Bogota: City Of The Lost, and TV series Taeneung Zombie Village (working title), a teen action series based on the internet novel of the same title where a zombie virus breaks out in South Korea's national athletes' village, and Tving original series I'll Give It My All… Tomorrow (working title), based on Aono Shunji's cartoon of the same name. The family comedy is directed by Theo Shim and set to air locally on tvN in June.