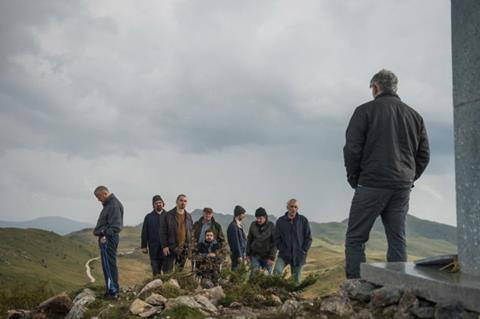 Kosovo's Prishtina International Film Festival (PriFest) celebrated its 10th edition last week (July 17-22), with Men Don't Cry, the feature debut of Bosnian director Alen Drljevic's receiving the award for best Balkan film.
The drama about the bloody conflict in the former Yugoslavia takes place in an empty Serbian hotel. It premiered at Karlovy Vary last year, and has subsequently screened at festivals including Sarajevo, Hamburg and Chicago.
It screened in Prishtina in the 'Honey and Blood' programme of Balkan films. The 'Honey and Blood' jury was comprised of German writer-director Johannes Naber, Polish producer Izabel Igel and French-Canadian film festival consultant Hayet Benkara.
The jury awarded the best director prize to Bulgaria's Stevan Kumandarev for Directions (which also won the Fipresci prize); best actress to Silma Mahmuti for The Witch Hunter; and best actor to Xhevdet Doda for Kosovan film Rooftop Story.
Amongst other awards were the best documentary prize, presented to Mr Gay Syria,.
Greater funding
An independent nation since its separation from Serbia in 2008, Kosovo's film scene is growing. Greater government funding for local film projects is expected in coming years.
Arben Zharku, director of public film fund the Kosovo Cinematography Center, said this year's total budget is €1.4m ($1.6m), a rise from the €1m total in previous years. Negotiations with the government for further funding are ongoing, with Zharku anticipating a €2m-per-year total within the next few years.
About 80% of this total is given to Kosovan feature film productions each year, with money also available for minority co-productions. Previous years have seen three or four features given funding of between €150,000 to €250,000 per project; Zharku hopes the increased budget will allow the Center to support more projects each year.
The festival welcomed back Vanessa Redgrave as its special guest after she attended the inaugural event in 2009. Redgrave participated in a showcase of PriFest's Rising Stars, displaying 10 promising acting talents from Kosovo.
Further events included a masterclass with UK screenwriter Lucinda Coxon, whose credits includeThe Danish Girl and The Little Stranger.
The festival's industry strand, PriForum, held discussion sessions including 'Kosovo ready to roll' about the country's capacity to host international co-productions, as well as a Best Pitch competition, of which the main prize went to Feysal Soyal's The Walnut Tree.
"We managed to prove once again that the festival continues to play an important role for development of film industry in Kosovo and the region, supporting young filmmakers with their film projects," said festival co-director Vjosa Berisha. "We are ready to start working on the next edition straight away."
PriFest 2018 winners
FIPRESCI Jury award for best Balkan film - Directions
Media Jury award - Anchor And Hope
Documentary programme award - Mr. Gay Syria
Special Jury prize - Anchor And Hope
Best European film - Wajib
International Achievement of a Kosovo Film/Actor award - Genc Salihu, Alban Ukaj (Marriage)
Balkan programme
Best actor - Xhevdet Doda (Rooftop Story)
Best actress - Silma Mahmuti (The Witch Hunter)
Best director - Stevan Kumandarev (Directions)
Best film - Men Don't Cry
Best Pitch awards
Vanessa Redgrave Best Pitch award - The Walnut Tree
Audio postproduction services prize - Money For A Funeral
Colour grading prize - Looking For Venera
Kosovo's Rising Stars 2018
Afrim Muçaj
Armend Smajli
Bujar Ahmeti
Doresa Rexha
Fatlume Bunjaku
Florist Bajgora
May-Linda Kosumovic
Rifat Smani
Rina Krasniqi
Shpëtim Selmani