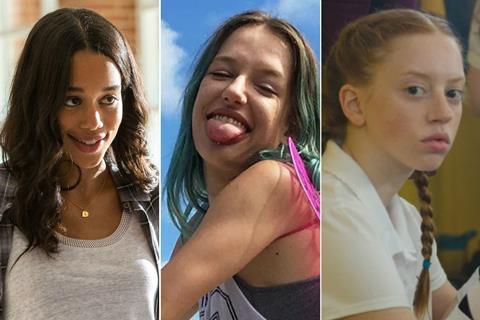 Laura Harrier (BlacKkKlansman), Bria Vinaite (The Florida Project), and Lily Newmark (Pin Cushion) have all joined the cast of Jamie Adams' Balance Not Symmetry, which the director is making with Scottish rock band Biffy Clyro.
As Screen revealed in Cannes, director Adams is working with Biffy Clyro frontman Simon Neil on the project, with the singer collaborating on the screenplay and writing original songs for the film. The soundtrack of original material, also titled Balance, Not Symmetry, will be released as a standalone Biffy Clyro ablum.
Also in the film's cast are Freya Mavor (The Sense Of An Ending), Tamsin Egerton (The Brothers Grimsby), Kate Dickie (Game Of Thrones) and newcomer Scott Miller.
The project is shooting around Scotland on location including in Glasgow and Edinburgh – it wraps this weekend after four weeks filming.
The story follows an American student (Laura Harrier) who is living a privileged existence at Glasgow School of Art when her father unexpectedly dies. Consumed with her loss, she finds herself re-examining both her life and inner circle, including best friend Hannah (Bria Vinnaite). After a chance encounter with Rory (Scott Miller), an unexpected sparks lights within her and she finds herself torn between two worlds.
Director Adams' credits include Black Mountain Poets and Wild Honey Pie, which premiered at SXSW this year. Maggie Monteith is producing and financing through her banners Dignity Film Finance and Northcott Films, alongside Adams' Two Flowers and King Pictures.
London-based sales outfit AMP International is handling worldwide rights and will be showing materials to buyers at the upcoming American Film Market.