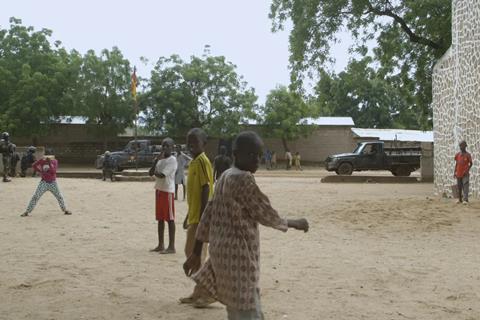 Cyrielle Raingou's Le Spectre De Boko Haram has triumphed at the International Film Festival Rotterdam (IFFR), taking home the main prize, the €40,000 Tiger award, at the ceremony which unfolded tonight (February 3), held in-person for the first time since 2020.
Scroll down for the full list of winners
Raingou's debut feature is a documentary following a group of children living under the threat of terrorist organisation Boko Haram in the far north region of Cameroon – the region Raingou herself is from.
The winner was selected by a jury that comprised the director of Udine Far East Film Festival Sabrina Baracetti, Filipino filmmaker Lav Diaz, Neptune Frost director Anisia Uzeyman, US producer Christine Vachon and Mexican film critic Alonso Díaz de la Vegaon,
The jury called Le Spectre De Boko Haram "a story that centres on its filmmakers' patient and honest gaze on the hovering presence of violence, seen through the eyes of innocents".
Special jury awards went to Visakesa Chandrasekaram's Munnel, a feature that reflects the post-war life of the Tamil people of Sri Lanka, and pandemic comedy New Strains from New York filmmakers Artemis Shaw and Prashanth Kamalakanthan. Each received a €10,000 prize.
Abbas Amini's Endless Borders took home the VPRO Big Screen Award, an award which is issued jointly by IFFR and Dutch public broadcaster VPRO. The title is set in a border village between Iran and Afghanistan where an exiled Iranian teacher finds himself helping a refugee Afghan family.
On their selection, the jury said: "The minimalist scenography and the effective use of silences enhance the focus on the unspoken dynamics within the community. The underlying current of tension, due to the harrowing situation in which the main characters find themselves, keeps you engaged throughout the whole film."
Ukrainian filmmaker Philip Sotnychenko's "outstanding" feature debut, exploring post-Soviet life in 1990s Ukraine, La Palisiada received the Fipresci Award.
Industry award winners were announced on January 31, with Italy-France co-production Heads Or Tails winning the Eurimages Co-production Development Award of €20,000. The festival runs until February 5.
IFFR winners 2023
Tiger Competition Award
Le Spectre De Boko Haram
Dir: Cyrielle Raingou
Special Jury Award
Munnel
Dir: Visakesa Chandrasekaram
New Strains
Dirs. Artemis Shaw, Prashanth Kamalakanthan
VPRO Big Screen Award
Endless Borders
Dir; Abbas Amini
Fipresci Award
La Palisiada
Dir. Philip Sotnychenko
NETPAC (Network for the Promotion of Asian Cinema) Award
Whispering Mountains
Dir: Jagath Manuwarna