Warner Bros' animation stays top for third straight week; Non-Stop records second best-ever UK bow for StudioCanal; Universal's The Wolf of Wall Street becomes UK's highest grossing 18-rated film.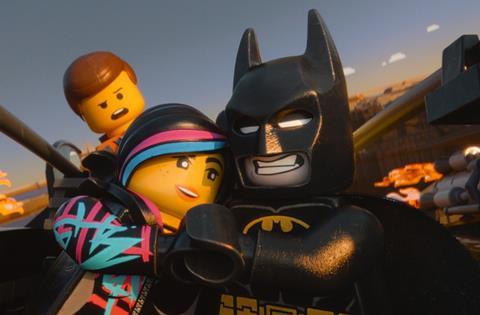 The children might be back at school, but it's a similar picture at the top of the UK box office as The Lego Movie reigned supreme for a third straight week.
Warner Bros' 3D animation added $5.4m (£3.26m) for a mighty $44.6m (£26.66m) to date. At the same stage in its run, Frozen – currently the UK's highest grossing original animation – stood at $27m (£16.2m).
There's every chance The Lego Movie could become the first film since Les Misérables to go four consecutive weeks as the UK's number one.
Having led the Oscars last night and despite a home entertainment release today, Gravity continued to pull in audiences at the cinema. Warner Bros' critically acclaimed sci-fi posted a slim drop in its 17th week of release to take $566,000 (£338,000) for an excellent tally of $52.8m (£31.6m).
Also for Warner Bros, A New York Winter's Tale posted a hefty drop in its second weekend, grossing $42,000 (£25,000) for $745,000 (£445,000), while Unforgiven recorded a UK debut of $5,300 (£3,183) from its seven sites.
STUDIOCANAL
The week's highest new entry came in the form of StudioCanal's Non-Stop, which flew into the chart in second with $4.4m (£2.66m).
Not only does that debut mark director Jaume Collet-Serra's best-ever UK bow, ahead of Unknown's $2.3m (£1.4m) from 332 sites, but it's also the distributor's second highest UK bow of all time, narrowly behind Tinker Tailor Soldier Spy's $4.7m (£2.8m).
Unknown is also Collet-Serra's best-ever UK performer with $11m (£6.6m) and Non-Stop is in a great position to challenge that.
Also for StudioCanal, RoboCop gained an extra $577,000 (£344,943) for $12.9m (£7.7m) to date, while Cuban Fury has danced its way to $3.9m (£2.3m) after three weeks in play.
FOX
Landing third on its UK debut thanks to previews, The Book Thief got off to a healthy start in the UK. Fox's adaptation recorded a bow of $2.39m (£1.43m), with $1.7m (£1m) coming from Fri-Sun.
Also for Fox, Mr. Peabody & Sherman travelled to an additional $1.3m (£792,406) for a strong $19.4m (£11.6m) UK tally, meaning it will shortly overtake Turbo's $20m (£11.9m) gross in terms of DreamWorks Animation outings in the UK.
The Monuments Men stands at $8.9m (£5.3m) after a $890,000 (£532,045) third weekend.
UNIVERSAL
Charting fourth overall, but third solely on Fri-Sun grosses, Ride Along enjoyed a sturdy $2.35m (£1.41m) at a site average of $6,204 (£3,707). Outside of the Fantastic Four films, that marks director Tim Story's strongest UK opening topping Taxi's $905,000 (£540,581) bow.
As expected, The Wolf of Wall Street is now the UK's highest grossing 18-rated film of all time, topping Hannibal's $36.2m (£21.6m) result. Martin Scorsese's latest is now up to a terrific $36.5m (£21.79m) following a $768,000 (£459,000) weekend, a slim drop of 32% in its seventh week in play through Universal.
DISNEY
Falling just over 40% in its third weekend, Tinker Bell and the Pirate Fairy sailed to an additional $1.1m (£656,697) for $7.8m (£4.7m) to date. It's now overtaken Tinker Bell and the Secret of the Wings' $7.4m (£4.4m) UK result, and should hit £5m by the end of this coming weekend.
Oscar winner Frozen edged closer to £40m with a $333,000 (£199,064) weekend through Disney. It now stands at $65m (£38.8m) in the UK but is likely to fall just short of the £40m landmark, unless it receives a boost in the coming weeks. Regardless, it's been a excellent sustained run.
EONE
With £20m still a possible target, eOne's 12 Years a Slave took a further $590,000 (£352,633) in its eighth weekend to climb to $30.8m (£18.4m). Its Oscar Best Film win should see the film given a box office boost this coming week.
eOne's Dallas Buyers Club could also receive a similar boost, with this weekend seeing it take $489,000 (£292,123) for $6.5m (£3.9m) after four weeks in play.
ENTERTAINMENT
It may not have won any Oscars, but American Hustle is still going well in the UK after it added $189,000 (£113,186) to stand at $22.5m (£13.5m) through Entertainment.
Meanwhile, in its third week of release, Her was narrowly behind with $182,000 (£109,316) for $2m (£1.2m) to date.
PARAMOUNT
Opening in 219 sites through Paramount, the new version of Anchorman 2: The Legend Continues grossed $154,000 (£91,747) to lift the overall running total for the comedy sequel to $24.1m (£14.4m).
SODA PICTURES
Dropping almost 50% in its second weekend, Only Lovers Left Alive bit into a further $70,000 (£41,784) from its 34 sites for $382,000 (£228,000) to date through Soda Pictures.
LIONSGATE
Currently playing in 81 sites through Lionsgate, The Invisible Woman added $67,000 (£39,844) for $1.1m (£638,655) after four weeks in play (two of which were London-wide only).
ARTIFICIAL EYE
Following its two-part event release last Saturday [Feb 22], Artificial Eye released both parts of Nymphomaniac separately this weekend. Vol 1 took $61,000 (£36,536) from its 35 sites, while Vol 2 whipped up $26,000 (£15,354) from 33 sites. Overall, Nymphomaniac stands at $327,000 (£195,196) in the UK.
PECCADILLO PICTURES
Set to become Peccadillo Pictures' second best-ever UK performer behind Weekend, Stranger by the Lake stands at $146,000 (£87,525) and is currently showing on 18 screens in the UK.
UPCOMING RELEASES
This week sees saturation releases for Warner Bros' 300: Rise of an Empire and Entertainment's Escape from Planet Earth.
Fox's The Grand Budapest Hotel receives a wide release while Vertigo's Bullet and eOne's Paranoia are among the films receiving a limited release. Arrow's The Stag releases in Ireland ahead of a UK-wide release from March 14.