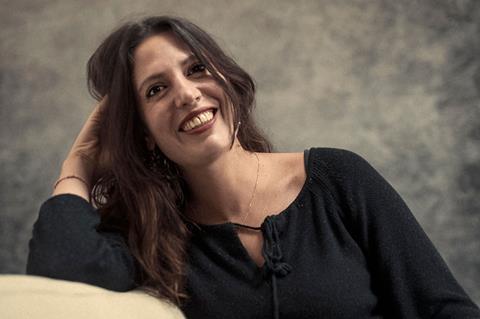 Silver Haze, the new feature from Dirty God director Sacha Polak, is among 15 feature projects in post-production selected for the 2021 edition of the Les Arcs Film Festival Work in Progress session.
The event is intended to help projects find sales agents, distributors and festival prremieres; it will run on Sunday, December 12 as part of the Industry Village at the 13th edition of the festival (December 11-18).
Scroll down for the full list of projects
Excerpts from the films will be screened to industry professionals, in a session moderated by the festival's artistic director Frederic Boyer, with an award ceremony the following day.
Polak's Silver Haze is a Netherlands-UK co-production, between Marleen Slot's Viking Film and Mike Elliott's Emu Films.
It follows a young woman who seeks answers and revenge,15 years after she got burnt when the pub where she slept as a child caught fire.
The film stars Screen Star of Tomorrow 2019 Vicky Knight, who had a breakout role in Polak's 2019 feature Dirty God.
Other projects in the Les Arcs selection include Santiago Fillol's Matadero, produced by Spain's El Viaje Films and Nina Films, France's 4A4 Productions, and Argentina's Magoya Films and Prisma Cine. The film is an adaptation of a short story by 19th century Argentinian poet Esteban Echeverria; the story is known in English as The Slaughter Yard.
Swedish-Iranian filmmaker Milad Alami, who previously directed 2017 feature The Charmer and Danish series When The Dust Settles, participates with Opponent, the story of an Olympic wrestler who flees Iran to Sweden and takes up wrestling again, only for his past to catch up with him.
Eight of the 15 features are directed by women; with 38% of the 164 submissions directed by women. Seven are feature debuts.
The projects are competing from three awards: a post-production award worth €10,000; an audience engagement award worth €5,000; and for the first time, a music composition award worth €10,000.
Previous selections in the Les Arcs Work in Progress strand include Lukas Dhont's Girl, which went on to win four awards at Cannes 2018; and Valdimar Johannson's Lamb, which has secured worldwide distribution deals through New Europe Film Sales.
Les Arcs 2021 Work in Progress
Dogborn (Swe) dir. Isabella Carbonell, prod. Momento Film
Eismayer (Austria) dir. David Wagner, prod. Golden Girls Film
Embryo Larva Butterfly (Cyp-Gr) dir. Kyros Papavassiliou, prod. AMP Filmworks, Graal SA
January (Lat-Pol) dir. Viestur Kairish, prod. Mistrus Media, Staron Film
Krzyk (Losing Control) (Ger) dir. Ewa Wikiel, prod. Deutsche Film-und Fernsehakademie Berlin
Matadero (Fr-Sp-Arg) dir. Santiago Fillol, prod. 4A4 Productions, El Viaje Films, Magoya Films, Nina Films, Prisma Cine
Nika (Rus) dir. Vasilisa Kuzmina, prod. Vodorod, Art Pictures Studio
Opponent (Swe-Nor) dir. Milad Alami, prod. Tangy, Ape&Bjørn
Preparations For A Miracle (Switz-Ger) dir. Tobias Nolle, prod. Hugofilm Features, Flare Film
Silver Haze (Neth-UK) dir. Sacha Polak, prod. Viking Film, Emu Films
Stranger In My Own Skin (UK) dir. Katia de Vidas, prod. Wendy Production
Summer To Come (Hun) dir. Gyorgy Mor Karpati, prod. Proton Cinema, Café Film
The Mechanics Of Things (Fr-Ger) dir. Alessandra Celesia, prod. Films de Force Majeure, Dirk Manthey Film UG
The Ordinaries (Ger) dir. Sophie Linnenbaum, prod. Banden Film, Film University Babelsberg Konrad Wolf
When It Melts (Bel-Neth) dir. Veerle Baetens, prod. Savage Film, PRPL, Versus Production – out of competition