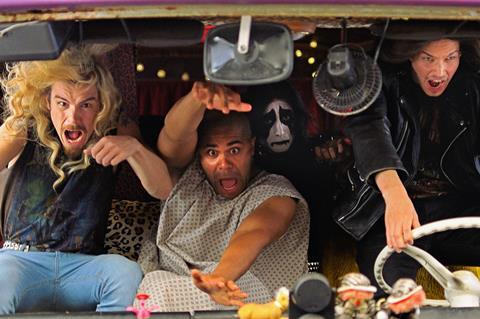 LevelK has acquired world sales rights to Finnish comedy Heavy Trip after its successful launch at SXSW.
LevelK will host market screenings in Cannes for the film, which is directed by Jukka Vidgren and Juuso Laatio.
Kai Nordberg and Kaarle Aho produced for Making Movies on a budget of $3.8m (€3.1m), financed by the Finnish Film Foundation, YLE & Film Camp.
Scanbox Entertainment released the film locally on March 9.
The cast includes Johannes Holopainen, Minka Kuustonen & Ville Tiihonen.
The story is about an unknown heavy metal band in a small town in Northern Finland called Impaled Rektum, who have rehearsed for 12 years without ever playing a gig. Lead singer Turo is forced to overcome his fears and lead the band on a wild journey to the hottest metal festival in Norway.
"Heavy Trip has a true potential to become a cult film. No one has never seen a film like this… and still it is a very good comedy," said producer Nordberg.
Directors Jukka Vidgren and Juuso Laatio added, "Guys like the band in Heavy Trip deserve their story to be told. These small town guys with a huge passion for a music genre, that most people wouldn't consider no more than a broken heavy machinery, is nothing short of inspirational."
Making Movies Oy's past films include Golden Globe nominated The Fencer.