Carlo Chatrian, Locarno Film Festival's artistic director, talks to Louise Tutt about new talent, old faces and maintaining the festival's vision.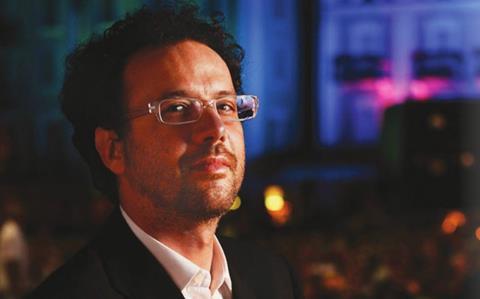 "I am a cinema lover," says Carlo Chatrian, artistic director of Locarno Film Festival. "The people who attend Locarno share with me that same love of cinema." As he puts the finishing touches to his second edition of the Swiss festival, following a decade in various programming roles at Locarno, the former journalist is firm in his aim to build on the festival's heralded tradition of introducing bold and thought-provoking new voices and visions while celebrating more established directors.
The three main sections, Concorso internazionale (International Competition), Concorso Cineasti del presente (Film-makers of the Present Competition) and the stunning alfresco showcase that is the Piazza Grande, all feature a mix of fresh faces and Locarno favourites.
"Directors who were previously presented or discovered in Locarno are coming back, so we can look at their work and see how it has evolved," says Chatrian. "That way we can also look at the development of cinema in general." In the Piazza Grande section, he points to the international premieres of US independent director Aaron Katz and Martha Stephens' Iceland-set comedy about ageing Land Ho! and Eran Riklis's Dancing Arabs, about an Arab-Israeli boy sent to a Jewish boarding school. Katz's Cold Weather screened in competition at Locarno in 2010 while Riklis's The Syrian Bride and The Human Resources Manager won the festival's audience award in 2004 and 2010, respectively.
Cannes selection Clouds Of Sils Maria, directed by Olivier Assayas, one of Chatrian's favourite film-makers and a jury chair in 2004, will also play in the Piazza Grande. As will the world premiere of Jean-Pierre Améris' new film Marie Heurtin and the international premiere of Lasse Hallström's The Hundred-Foot Journey, starring Helen Mirren.
Personal touch
"I am looking for a film in which I can find a personal touch, either the personal voice of the director or even the producer," says Chatrian of how he chooses films. "Something that tells me something new about cinema." The International Competition comprises 18 titles, mostly world premieres, and a blend of up-and-coming and more well-known directors. Chatrian is thrilled to welcome back French director Paul Vecchiali, jury president in 1983, and Argentinian director Martin Rejtman, who was first at Locarno with Rapado in 1992. Vecchiali's new film White Nights is based on a Fyodor Dostoevsky short story, while Rejtman is at the festival with surreal family drama Two Gun Shots.
From Switzerland, documentary maker Fernand Melgar is presenting The Shelter, the third in his trilogy of films about immigration, which Chatrian hopes will spark debate following Switzerland's controversial introduction of an immigration quota.
The artistic director is particularly excited by up-and-coming South Korean actor-director Park Jung-bum, whose film Alive is set in the Korean countryside. "It's not the Korea we're used to seeing in Korean cinema," says Chatrian.
Chatrian has landed the two current top prize winners of the Venice and Berlin film festivals to sit on the competition jury. Gianfranco Rosi, documentary director of the Golden Lion-winning Sacro GRA, will serve as jury president. He is joined by Diao Yinan, director of Golden Bear winner Black Coal, Thin Ice, alongside German director Thomas Arslan and actors Connie Nielsen from Denmark and Alice Braga from Brazil.
"For me, it's important to have a director heading the jury as the films we're selecting can be very peculiar, so I need a well-honed eye," Chatrian says.
The more discovery-oriented Film-makers of the Present Competition, reserved to first and second features, embraces a similarly diverse range of titles, including Colombian director Oscar Ruiz Navia's Los Hongos, a fiction film about two graffiti artists.
Songs from the North is a documentary by North Korea-born, US-based film-maker Yoo Soon-mi, who journeys home to see her parents. It offers a rare glimpse into normal family life under the dictatorship.
Chatrian points to US indie film-maker Charles Poekel as another name to investigate. Poekel's debut film Christmas, Again is a drama about a Christmas-tree seller in New York City. "What touches me about the film is that it makes a big city feel like a small village," says Chatrian. "It's something I haven't seen before." The Film-makers of the Present jury will award a main prize of $45,000 (chf40,000). The jury is headed by Syrian director Ossama Mohammed, presently exiled in Paris, whose documentary about the civil war in his country Silvered Water, Syria Self Portrait is screening in the jurors' films section.
"Locarno is known for its freedom and independence. It's important for me that I carry this on," says Chatrian. "Mohammed's film is one of the best I've seen all year."