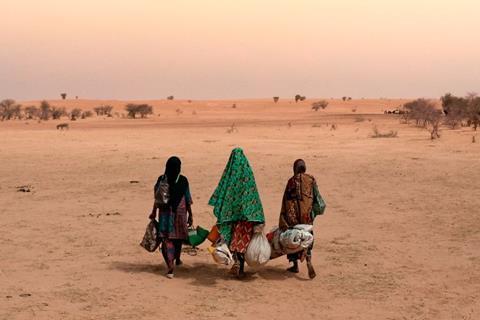 The Cannes Film Festival has revealed the seven titles selected for its first 'cinema for the climate' section – part of a new focus by the festival to address environmental issues.
Comprised of one scripted film and six documentaries, the selection is led by comedy The Crusade, by French actor and filmmaker Louis Garrel.
The film revisits the family unit of his 2018 feature A Faithful Man and sees Garrel star opposite Laetitia Casta as a couple who discover their teenage son has been secretly selling the family possessions to fund an ecological project in Africa.
Garrel, whose directorial debut feature Two Friends played at Cannes in 2015, co-wrote the feature with Jean-Claude Carrière, who died in February. Why Not Productions produces and Wild Bunch is handling sales.
The documentaries hail from France, Niger, India and China, and address youth activism, environmental catastrophes and global warming in Africa.
Marion Cotillard has co-produced Bigger Than Us, directed by French documentary maker Flore Vasseur, which follows a young Indonesian girl fighting against plastic pollution in her country, on a journey that takes her far from home. It is being handled by Indie Sales.
Paris-based Senegalese actress Aïssa Maïga has directed Above Water, filmed in a Niger village that is a victim to global warming. The documentary centres on a girl that must travel several miles every day to retrieve water and questions how this more widely impacts on education for youngers in Sub-Saharan African countries.
India's Rahul Jain, whose debut Machines won the cinematography award at Sundance and best documentary at Zurich in 2017, returns with Invisible Demons, which examines pollution in New Delhi and the 'invisible demons' that are the fine particles associated with this contamination.
France's Cyril Dion, who won the César award for best documentary in 2016 with climate change film Tomorrow, returns with Animal, in which two concerned teenagers ask questions to better understand the collapse of biodiversity and how we can find concrete solutions.
Some 12 years after Petition was presented at a Cannes special screening, Chinese filmmaker Zhao Liang has made I Am So Sorry, a documentary about the dangers of nuclear energy, journeying from Chernobyl to Fukushima.
Rounding out the selection, French filmmaker Marie Amiguet makes her directorial debut with The Snow Leopard. Setting up her camera on the Tibetan Plateau, she is accompanied by wildlife photographer Vincent Munier and writer Sylvain Tesson as they hope to spot the elusive big cat.
The strand accompanies a renewed commitment to environmental responsibility at the 74th edition of Cannes, which includes 12 commitments to match the 12 days of the festival (July 6-17) This includes using a 50% reduction in paper printing; the use of electric or hybrid vehicles; the total elimination of plastic water bottles; a 50% reduction in the volume of red carpet used; and an environmental contribution of €20 from festival-goers to compensate for their carbon footprint.