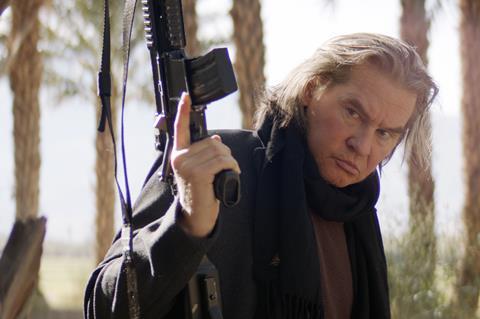 Octane Entertainment has wrapped production on its first in-house project, the Luke Goss and Val Kilmer thriller Paydirt, and will show first footage and launch worldwide sales in Berlin.
Christian Sesma (Vigilante Diaries) directs from his screenplay about a parolee (Goss) who teams up with his old crew to find a buried bag of cash stolen five years ago from a DEA bust gone bad. Kilmer plays the dogged retired sheriff on his tail.
Mike Hatton, Nick Vallelonga, Paul Sloan, V. Bozeman, Mirtha Michelle, Murielle Telio, Jay Montalvo and newcomer Mercedes Kilmer round out the cast.
Octane Entertainment CEO Jack Campbell produced alongside Hatton, Sesma and Luke Goss. Gary Rubens served as executive producer on the feature, which shot in and around Coachella, California.
"We never could have done it without the unending support from the City of Coachella, Fantasy Springs Resort Casino and all the locals in the greater Coachella Valley," said Campbell.
The Octane library of approximately 50 titles includes comedy Being Frank starring Jim Gaffigan from director Miranda Bailey, fantasy romance Love Is Blind starring with Aidan Turner, Matthew Broderick and Chloe Sevigny, sci-fi Encounter with Luke Hemsworth, and psychological horror St. Agatha from Saw franchise director Darren Lynn Bousman.