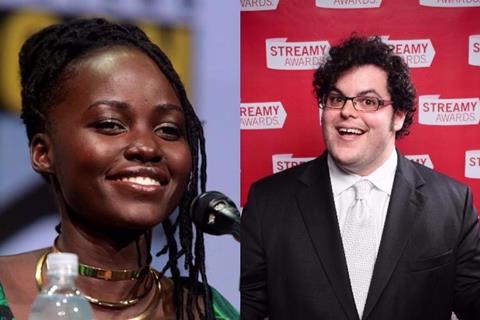 Lupita Nyong'o and Josh Gad are set to star opposite Australian actor Alexander England in the zombie comedy Little Monsters from Australian writer and director Abe Forsythe.
Production began in early October in Sydney. The film has received major production investment from Screen Australia in association with Create NSW. Protagonist Pictures is handling international sales.
Little Monsters centres on Dave, a washed-up musician who volunteers to chaperone his nephew's kindergarten class field trip after taking a shine to the plucky schoolteacher, Miss Caroline.
Dave's intentions are complicated by the presence of the world's most famous children's show personality Teddy McGiggle, who competes for Miss Caroline's affections. When a zombie outbreak occurs, Dave and Miss Caroline must protect the children at all costs.
Snoot Entertainment's Keith and Jess Calder are producing alongside Made Up Stories' Bruna Papandrea, Jodi Matterson and Steve Hutensky, with Jeanne Snow serving as executive producer.
"Jess and I are delighted to be working with Abe Forsythe and the whole team in Australia, as we're huge fans of his first film Down Under," Keith Calder said. "That we also get to work with Lupita Nyong'o and Josh Gad has turned a great experience into a total dream."
Nyong'o, who won an Oscar in 2014 for her performance in 12 Years A Slave, most recently wrapped production on Black Panther from Disney and Marvel. She can next be seen in Star Wars: The Last Jedi, which releases on December 15.
Gad's credits include Disney's Frozen and Beauty And The Beast, and Open Road's Marshall. He will next be seen in Murder On The Orient Express, releasing via Twentieth Century Fox. England previously starred in Forsythe's Down Under, and was in Ridley Scott's Alien: Covenant, and most recently Australian TV series Offspring.
"Abe is a brilliant filmmaker and I can't wait for audiences to fall in love with this original film that is equal parts hilarious, heartwarming and terrifying," Papandrea said. "We at Made Up Stories have been longtime fans of Lupita's and Josh's extraordinary work and we are thrilled that they have come on board alongside Alex."
Sally Caplan, head of production at Screen Australia, said: "Little Monsters is an utterly charming and seemingly-impossible meld of zombie horror with romantic comedy that we expect will have genuine crossover appeal for audiences. Building on the working relationship forged on Down Under, we are thrilled to see Abe Forsythe and Jodi Matterson team up with vastly experienced producers Bruna Papandrea and Steve Hutensky and offer our congratulations to the team for assembling this inspired cast."
Create NSW CEO Michael Brealey said: "Academy Award winner Lupita Nyong'o and the multi-talented Josh Gad are incredible choices for Little Monsters and we are delighted to welcome them and the rest of the impressive cast and crew to NSW. This is a major win for the state and we are especially excited that such an esteemed producing team, including Emmy Award-winner Bruna Papandrea, is onboard for the shoot in and around Sydney."
Snoot Entertainment's slate includes Morgan Spurlock's Super Size Me 2: Holy Chicken, Blindspotting, and Charlie Kaufman's Anomalisa.
Made Up Stories recently acquired Tina Brown's upcoming book The Vanity Fair Diaries for development as a limited series, and just wrapped production on Jennifer Kent's The Nightingale, and the TNT pilot Deadlier Than The Male written by Harriet Warner and starring Amy Brenneman.