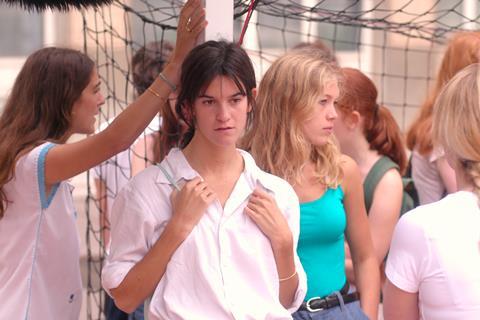 Paris-based Luxbox has announced the first key territory deals on Cannes 2020 label title Spring Blossom (Seize Printemps), which has just been selected for Toronto's physical edition in September.
The work is the debut feature of Suzanne Lindon, who directs and stars in the film. She is the daughter of Cannes Palme d'Or winning actor Vincent Lindon and actress Sandrine Kiberlain.
First sales include to Benelux (Cinéart) and Germany (MFA+ Filmdistribution). It will be released by Paname Distribution in France.
Lindon plays a precocious teenager, bored by people of her own age, who finds a fleeting soulmate in an older actor, who is also disenchanted with his milieu, played by BPM co-star Arnaud Valois. The trailer teases a youthful tale steeped in Parisian life.
Speaking to Screen, when the film's Cannes 2020 selection was announced in June, 20-year-old Lindon revealed that she wrote the screenplay as a 15-year-old teenager, the summer before starting high school, on the basis of her own experiences growing up in Paris, but that the story was not autobiographical.
The feature is produced by Caroline Bonmarchand at Avenue B Productions whose recent credits include Sophie Letourneur's comedy Enormous and Sébastian Marnier's School's Out.
The work is one of 15 first features selected by the Cannes Film Festival for the 56-title special Official Selection it created this year in the absence of a physical festival.
It among four Cannes 2020 label titles included in the Toronto International Film Festival's first selections for its slimmed edition in September alongside Francis Lee's Ammonite (UK), Thomas Vinterberg's Another Round (Denmark) and Naomi Kawase's True Mothers (Japan).
Luxbox has commenced sales on the title in the virtual market although there was not an industry-wide online market screening, with the company waiting for its theatrical debut at TIFF.
Commenting on the film for Luxbox, Cannes Film Festival delegate general Thierry Frémaux described the work as "a generational and personal project with universal appeal."