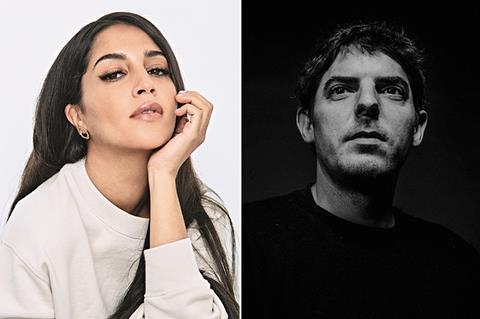 Paris-based sales company Luxbox will kick-off sales on Belgian filmmaker Joachim Lafosse's upcoming drama The Restless at the upcoming Marché du Film Online.
Leiïa Bekhti and Damien Bonnard are set to star as a couple, who share a child together, whose life together is impacted by bipolarism.
Bonnard, whose recent credits include Les Misérables and The French Dispatch, plays a man called Damien who is battling the high and lows of bipolar disorder.
Bekhti co-stars as his partner (Leila) who valiantly weathers the emotional rollercoaster of his changing moods, clinging onto her image of him as the love of her life. Her recent credits include Damien Chazelle's The Eddy and crime drama Perfect Nanny.
Luxbox co-chiefs Fiorella Moretti and Hédi Zardi described The Restless as "the story of great love striving to overcome obstacles in its way."
It is the ninth feature for Lafosse whose filmography includes a number of works exploring the dynamics of life in a couple including Our Children and After Love.
"Ever since my first films, my aim was to give audiences narratives that are, first and foremost, driven by complex characters, always handled with a great desire for nuance," said Lafosse. "Despite the intensity of Damien's latest relapse and his efforts to get better, will Leïla ever be able to look at her lover – the father of their child – as anything other than a bipolar man? Will she manage to stay committed to the relationship, despite the fear?"
The film is lead produced by Anton Iffland Stettner and Eva Kuperman at Belgium-based Stenola Productions. Jani Thiltges at Samsa Films (Luxembourg), Alexandre Gavras at KG Productions (France) and Antonino Lombardo at Prime Time (Belgium) are on board as co-producers.
Cinéart has acquired Belgium and Netherlands distribution rights while Samsa Distribution will release the feature in Luxembourg.
Backers comprise Fédération Wallonie Bruxelles, Belgian state broadcaster RTBF, Proximus, BeTv, Shelter Prod, le Vlaams Audiovisueel Fonds, le Fondspa, la Région PACA, Canal Plus, Ciné Plus.
The production was due to shoot in June but was delayed due to the Covid-19 pandemic.
It is now deep in pre-production with a scheduled July start. The plan is to shoot the film, unfolding mainly against the backdrop of a house, with a reduced crew, who will prepare the set and then leave actors and Lafosse to work alone.
Other titles on Luxbox's virtual Cannes slate include Cannes 2020 titles Spring Blossom and In The Dusk.