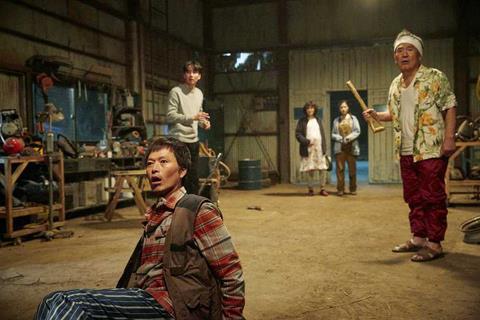 South Korea's M-Line Distribution has sold undead comedy The Odd Family: Zombie On Sale and period drama Feng Shui to a slew of territories including Japan (Fine Film and Hark, respectively) and North America (The Korea Daily).
The company has also picked up Juror 8, a debut feature directed by Hong Seung-wan and starring Venice best actress winner Moon So-ri (in 2002, for Lee Chang-dong's Oasis), Park Hyung-sik and Paik Soo-jang.
The film is based on a true story, in which ordinary people on South Korea's historic inaugural citizen's jury became passionately involved in uncovering the truth about a matricide case.
The Odd Family: Zombie On Sale stars Jung Jae-young, Kim Nam-gil and Uhm Ji-won and follows the oddball Park family as they discover and try to profit from a zombie that has been created by a pharmaceutical company's illegal experiments.
As well as Japan and North America, the film has sold to Indonesia (Sonamu Cinehouse), Taiwan (Long Shong) and Singapore, Malaysia, Brunei and Vietnam (Clover Films). It is set for local release on February 14.
Directed by Park Hee-kon, Feng Shui stars Cho Seung-woo, Ji Sung and Kim Sung-kyun and is set during the Joseon Dynasty, as courtiers and geomancers fight for control of the royal throne in a tale of conspiracy, murder and revenge.
The film clocked up more than 2 million admissions and $16m on local release, according to the Korean Film Council (KOFIC). Alongside the Japan and North America sales, it has gone to Taiwan (Long Shong), Malaysia and Singapore (Hwa Yea), Hong Kong, Indonesia and Thailand (CJ E&M) and worldwide in-flight (Emphasis).