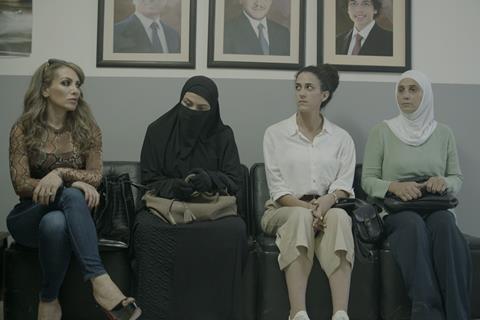 Cairo-based film company MAD Solutions has unveiled an acquisition slate of more than 50 Arabic-language titles from 13 different territories that it plans to get into festivals and cinemas across the Middle East and North Africa in 2021 and 2022.
"During the pandemic, we used the opportunity to discuss the objectives and goals for Arab films, to strengthen links with the public, and to be a part of projects from the beginning, developing the films together," said company co-heads Alaa Karkouti and Maher Diab. "We feel that there is a bright future and a great desire for Arab cinema."
New additions include The Legend of Zeinab and Noah, celebrated Egyptian director Yousry Nasrallah's first feature in five years; A House in Jerusalem, the third fiction feature of Palestinian director Muayad Alayan after The Reports Of Sarah and Saleem, and Floating In A Vacuum by Tunisian filmmaker Mohamed ben Attia, who won best first film at Berlin in 2016 for Hedi.
Further titles include from confirmed directors include Huda's Salon by Hany Abu-Assad (Palestine), Amira by Mohamed Diab (Egypt), Dirty, Difficult, Dangerous by Wissam Charaf (Lebanon), Catch The Moon by Sameh Zoabi (Palestine) and Communion by Nejib Belkadhi (Tunisia).
The slate also features 10 works by female directors, spanning Our River….Our Sky by Maysoon Pachachi (Iraq), previously announced as Another Day In Baghdad; Baghdad Perfume by Roua Alazzawi (Iraq); I'll Go to Hell by Ismahane Lahmar (Tunisia), and Drahem by Najet Hadrich (Tunisia).
First films
The latter three titles are among 22 first features on the slate, which also include The Sea is Ahead by Ely Dagher (Lebanon), The Alleys by Bassel Ghandour (Jordan), It's A Boy by Amjad Al-Rasheed (Jordan), Goodbye Julia by Mohamed Kordofani (Sudan), Seeking Haven for Mr. Rambo by Khaled Mansour (Egypt), Life Suits Me Well by Al Hadi Ulad-Mohand (Morocco), Soula by Salah Issad (Algeria), Passage by Amro Ali (Syria), Farah by Hassiba Freiha and Kenton Oxley (Lebanon), Daughters of Abdulrahman by Zaid Abu Hamdan (Jordan), and Ghodwa, the directorial debut by Tunisian pan-Arab acting star Dhafer L'Abidine.
Saudi Arabia's fledgeling film industry is also well represented with seven titles including two horror films: Asim Altokhais' The Last Jinn Exorcist and Haidar Samir's Sheikh Eljenani. And 90 Days by Khaled Elharby, who makes his feature film debut after scores of TV and theatre works.
Some of the titles have already launched on the festival circuit this year such as Black Medusa by Youssef Chebbi and Ismael (Tunisia), which had its world premiere at Rotterdam; Trapped by Manal Khaled (Egypt), which premiered at SXSW, About Her by Islam El Azzazi (Egypt) which played in Cairo, and Gaza Mon Amour by Tarzana and Arab Nasser (Palestine), which debuted at Venice and then Toronto.
Work has already begun to position some of these new acquisitions in this autumn's busy Middle East and North Africa festival calendar, which kicks off with El Gouna (Oct14-22) and also features Saudi Arabia's inaugural Red Sea International Film Festival (Nov 11-20) and the Cairo International Film Festival (Dec 1-10).
The 13 Arab nations involved in the new projects include Palestine, Egypt, Lebanon, Algeria, Jordan, Saudi Arabia, Sudan, Iraq, Kuwait, Morocco, Tunisia, Qatar, and Syria.
A number of the projects have come to Mad Solutions through its long-time collaborations with key producers in the region such as Tunisia's Dora Bouchoucha, Jordan's Rula Nasser, Egypt's Mohamed Hefzy and compatriot Shahinaz Elakkad.
"A big part of our work is dependent on the trust we created working with the same producers and directors, and we want to achieve more success with each new film," said Karkouti and Diab.
Launched in 2010 with an initial focus on promoting and distributing Arab cinema, MAD Solutions has recently branched into looking after talent with the official launch of MAD Celebrity earlier this year.